Le Lido cabaret in Paris
Le Lido cabaret in Paris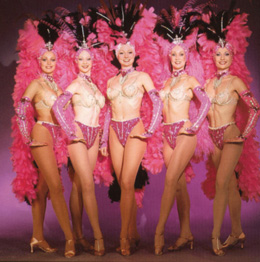 Le Lido dinner revue, music hall, cabaret
C'est Magique! Le Lido de Paris welcomes you for one of the most famous cabaret show in the world. Le Lido de Paris also propose you to have dinner.
Le Lido Paris: The international cabaret show in Paris
Le Lido c'est Paris et Paris c'est le Lido.
Ideally situated on the Champs Elysees Avenue, this cabaret is an international place.
For a romantic dinner as well as a dinner with your customers, everybody will enjoy the Lido`s atmosphere. C'est magique !
Cabaret show at Le Lido
A dazzling show ! Topless dancers, lasers, video games, animals, special effects … it's amazing. Las Vegas and cow-boys, tap dancing, Hollywood, Holiday on Ice, flying ladies : all tastes and all nationalities. An acrobatic juggler, a magician with birds and a musical clown are as many attracting points in this wonderful show : C'est Magique!
The 1st show begins at 9.30 PM, and the 2nd at 11.30 PM.
From 140 Euros per person with 1/2 bottle ofChampagne
Video: see the revue Bonheur
Le Lido cabaret in Paris
Address :
116 Bis Avenue des Champs Elysées
Zip code :
75008
City :
Paris - France
Area :
Champs-Elysées, Arc de Triomphe
Website :
Le Lido cabaret in Paris
Opening hours :
The 1st show begins at 9.30 PM, and the 2nd at 11.30 PM
Prices :
From 140 euros
Phone :
+33 (0)1.40.76.56.10
Metro/Bus :
Metro: George V line 1