Le Moulin Rouge - Paris
Le Moulin Rouge - Paris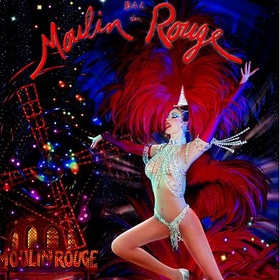 Grand Spectacle and French Cancan at Le Moulin Rouge in Paris.
Dinner, dance and show at Le Moulin Rouge will make an unforgettable evening for your stay in Paris.
The oldest cabaret show in Paris
Le Moulin Rouge is certainly the most famous cabaret of the World. Since Henri de Toulouse Lautrec, at the beginning of the twentieth century, le Moulin Rouge is one of the legendary monuments of Paris. Edith Piaf, Yves Montand, Ginger Rogers, Lisa Minnelli, Frank Sinatra are one of the world famous stars who came to Le Moulin Rouge. We can't neither forget the French Cancan's period with La Goulue or Josephine Baker, Mistinguett and Maurice Chevalier. The audience can first come to dinner and second see the cabaret dancing show at 9 or 11 p.m.
Dinner and cabaret show at Le Moulin Rouge
Topless dancers make you travel across the ages and continents with the FEERIE performance. You'll discover folklores from all over the world, in a festive atmosphere. And you will also see the real French Cancan. The scenes of the show are intersperse with acrobats, and clowns, who are very talented.
FROM FROU FROU TO FEERIE
Forty years of success at the Moulin Rouge ! Since Cancan in 1961, Doris Haug and Ruggero Angeletti have called the tune with the famous Doriss Girls on the stage of the Moulin Rouge.
THE CURRENT SHOW
"Féerie" consists of : a troupe of 100 artists, including the 60 Doriss Girls, recruited world-wide ; 1000 costumes of feathers, rhinestones and sequins, set up in the most famous Parisian workshops ; sumptuous sets in shimmering colours uniquely designed by Italian artists ; the best, most outstanding international acts ; and the awaited return of the giant aquarium...
The tradition of cabaret does not rest on gastronomy, nonetheless Laurent TARRIDEC a Chef acclaimed by the Guide Michelin and with one 'toque' ( the chef's hat, equivalent of a star for hotels) granted by the Gault-Millau guide, makes the Table of the Moulin Rouge delicious experience.
Video: See the Féérie show of Le Moulin Rouge
Le Moulin Rouge - Paris
Address :
82 boulevard de Clichy
Zip code :
75018
City :
Paris - France
Area :
Montmartre, Sacré-Cœur
Email :
information
SPAMFILTER
@moulinrouge.fr
Website :
Le Moulin Rouge - Paris
Opening hours :
Every day at 9 and 11 pm
Phone :
01 53 09 82 82
Metro/Bus :
Blanche
Your comments : Le Moulin Rouge