Château de Versailles - Paris - France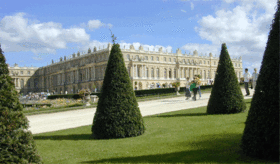 Together with its gardens, the château de Versailles is one of the most famous monuments of world heritage. The buildings trace the architectural style of the 17th and 18th centuries and comprise: the Royal Apartments, the Hall of Mirrors, the Chapel, the Royal Opera and the Museum of the History of France.
The Park is decorated with statues, flower beds and water and outstanding buildings : Grand Trianon and Petit Trianon, Temple de l'Amour and hamlet of Queen Marie-Antoinette.
Since February 2011 you can make a virtual visit of Versailles Palace with Google Art Project. Enjoy!!
Château de Versailles - Paris - France
Address :
château de Versailles
Zip code :
78000
City :
VERSAILLES - France
Area :
No location
Website :
Château de Versailles - France
Opening hours :
The Castle is closed on Mondays. It's open from April 1st until October 31st, from 9am to 6.30pm, and from November 1st until March 31st from 9am to 5.30pm.
Prices :
The Day Pass at 16€: access to the Royal Apartments, the King Room, the Grand and Petit Trianon, the Gardens and the Great Music Water Show (High Season), temporary exhibition, the horse-drawn Coach Museum, the Parliament Museum and since February 1st to the Ladies tour. Free for children under 10 yrs accompanying their parents.
Phone :
01.30.83.77.43
Metro/Bus :
RER : Versailles Rive Gauche - Bus : 171
Your comments : Chateau de Versailles