La Conciergerie - Paris
The Conciergerie (La Conciergerie) Paris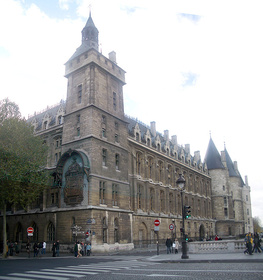 Built in the early 14th century, this Gothic architecture, complete with men-at-arms room, guardroom and kitchen, The Conciergerie is located on Ile de la Cité and was built by Phillipe the Fair (1284 - 1314). The architects of this fortress were Nicolas des Chaumes and Jean de Saint-Germer where this palace was part of the residence of the kings before the Louvre. Following, the departure of the Kings, the Concierge rented it out to shopkeepers.
In 1391, the Conciergerie became the first prison of Paris when this residence accommodated the seat of the Parliament and the judicial power. During the French Revolution, nearly 3,000 condemned spent their last days here. They were then transported to Concorde Square to be guillotined. Amongst them were Marie-Antoinette, the Austrian and wife of Louis XVI and Charlotte Corday, arrested to have stabbed Marat in his bath.
Danton also has his share of stay here. Today you can visit the Prisoners' Gallery, where the cells have been reconstituated according to those time. The windows of this gallery overlooks onto the Women's Square, where the prisoners take their walk. The dungeon of Marie-Antoinette was reconstituted and her original cell was transformed into a chapel, according to the wish of Louis XVIII. You will also find mementos of the French Revolution during your visit.
La Conciergerie - Paris
Address :
boulevard du Palais
Zip code :
75001
City :
Paris - France
Area :
Marais, Notre-Dame
Email :
la-conciergerie
SPAMFILTER
@monuments-nationaux.fr
Website :
La Conciergerie - Paris
Opening hours :
Open everyday : 9.30 am to 6 pm / Last entry 30 minutes before closing time./ Closed on January 1, May 1 and December 25.
Prices :
Adult rate : 7 € // Reduced rate : 4,50 € Adult group rate : 5,50 € (minimum 20 persons) // School group rate : 30 € (maximum 35 students, 2 accompananying adults included, adult group rate for additional accompananying adult) // Free admission : Minors under 18 (family visit) 18-25 years old (for people under 26 years old)
Phone :
01 53 40 60 93
Metro/Bus :
Metro: Châtelet, Saint-Michel, Cité: lines 1, 4, 7, 11 and 14 / Bus: 21, 24, 27, 38, 58, 81, 85 and Balabus / RER:Châtelet-les-Halles, Saint-Michel, Notre-Dame: lines B and C - Follow the Seine banks to Ile de la Cité
Your comments : Conciergerie