The Invalides in Paris
The Invalides (Hôtel National des Invalides)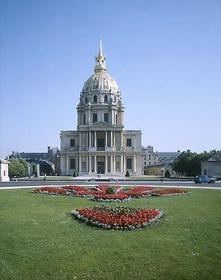 In 1670, King Louis XIV decided to build the "Hôtel Royal des Invalides" for wounded homeless soldiers of its different wars. It was built between 1671 and 1676 by Libéral Bruant, and then by Jules Hardouin-Mansart and Robert de Cotte.
One of the most prestigious monument in Paris.The most significant event in the history of Les Invalides is unquestionably the return of the body of Napoléon in 1840, from St. Helena. On 8 October 1840 - 19 years after the death of the Emperor - the coffin was exhumed.
Nowadays, it still maintains its initial purpose but the building also houses three museums (Army museum, "Plans-Reliefs" museum and Liberation Order museum), Napoleon 1st tomb designed en 1843 and two churches (the Dôme church and Saint-Louis-des-Invalides church).
The Invalides in Paris
Address :
Avenue de Tourville
Zip code :
75007
City :
Paris - France
Area :
Eiffel & Trocadéro
Email :
accueil-ma
SPAMFILTER
@invalides.org
Website :
The Invalides - Paris
Opening hours :
Open evry day from 10am to 5pm
Prices :
8,50 € / reduced 6,5e / under 18 free
Phone :
33 (0)1 44 42 38 77
Metro/Bus :
Metro : Latour-Maubourg, Invalides, ligne 8, Varenne, Saint François-Xavier, ligne 13 Invalides / RER C - RER : Invalides/ Bus n°28, 63, 69, 80, 82, 83, 87, 92, 93, Balabus
Your comments : Invalides paris