Grand Palais - Paris
The Grand Palais (Great Palace), is a large historic site, exhibition hall and museum complex located at the Champs-Élysées in the 8th arrondissement of Paris, France. Construction of the Grand Palais began in 1897.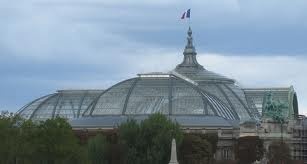 The Grand Palais, star of the Universal Exhibition of 1900, has reopened its doors in the heart of Paris beautifully restored, after twelve years of closure and four works, illuminated with natural light and large the most beautiful stained glass in the world. Renovations included repair of the metal framework, replacement of the glass, and the repairing and recovering of the roof.
The Grand Palais is currently the largest existing ironwork and glass structure in the world.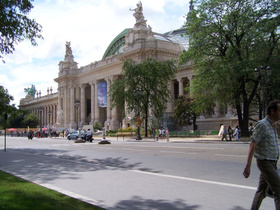 The Grand Palais has a major police station in the basement which helps protect the exhibits on show in the Galeries nationales du Grand Palais, and particularly the picture exhibition "Salons" as the Salon de la Société Nationale des Beaux Arts, Salon d'Automne and Salon Comparaisons. The building's west wing also contains a science museum, the Palais de la Découverte.
For more than 100 years, the Grand Palais has been a public exhibition hall and host to a variety of grand events. Though the main gallery is now a designated site for displaying contemporary art, you'll see everything here from antique car shows to fashion extravaganzas from some of Paris's top designers.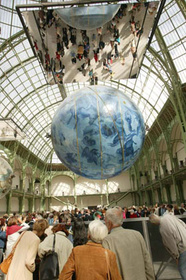 There are actually three different areas in the Grand Palais, each with a different entrance: the Palais de la Découverte (a science museum) is at the Avenue Franklin Roosevelt, the Galeries National du Grand Palais (an exposition hall) has an entrance at the Clémenceau Square and the entrance to the Nef du Grand Palais (an event hall) is at the Avenue Winston Churchill (opposite the Petit Palais). The couture fashion house Chanel annually hosts many of its fashion shows here, setting up elaborate and expensive surroundings for its models and hosts.
The opening hours of the Grand Palais depend on the exhibitions or events that occur there. You can directly access the schedules of current events from the homepage by clicking on the images of the posters.
Grand Palais - Paris
Address :
Avenue Winston-Churchill
Zip code :
75008
City :
Paris - France
Area :
Champs-Elysées, Arc de Triomphe
Website :
Grand Palais
Opening hours :
opening hours of the Grand Palais depend on the exhibitions or events that occur there
Metro/Bus :
Métro : lignes 1, 9, 13 / Stations : Franklin D. Roosevelt, Champs-Elysées-Clémenceau RER : lignes C / Stations : Invalides Bus : lignes 28, 42, 52, 72, 73, 80, 83, 93

Your comments : Grand Palais