Jardins des Tuileries - Paris
Jardins des Tuileries - Paris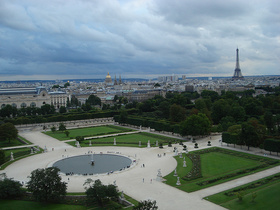 The Tuileries garden is named for the clay soil with which the Parisians made their tiles to the sixteenth century.
First public garden in Paris, the Tuileries Gardens was designed by André Le Nôtre in 1664. This green oasis of 280 000 m², surrounded by the Jeu de Paume and the Musée de l'Orangerie, offers the pleasure of strolling among the French parterres, groves of trees, ponds and small sculptures.
The Jardins des Tuileries is a museum of outdoor sculptures many of them of the era of Louis XIV to the present day. For visitors more childish, the Tuileries also offer playgrounds, pools where to rent boats, pony rides and even a large funfair during the summer months.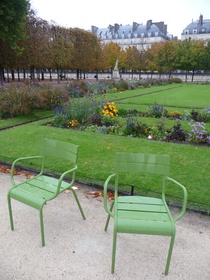 We discover in the midst of vast lawns, many statues of Rodin (The Kiss, Eve, Meditation, The Great Shadow), or Coysevox Carpeaux, but also contemporary works of Max Ernst (Microbe seen through a temperament), Alberto Giacometti (Great Woman II), Jean Dubuffet (Bel Costume), Henry Moore (Reclining Figure), which form a truly remarkable museum of outdoor sculpture.
Not less than 3000 chairs await you to admire the 60,000 bulbs in bloom in Spring.
The site of Jardin des Tuileries is part since 1991 of the World Heritage List of UNESCO
Jardins des Tuileries - Paris

Address : Place de la Concorde
Zip code : 75008
City : Paris - France
Area : Louvre, Opéra, Chatelet
Opening hours : April-May: 7a.m. -9p.m. June-August: 7a.m. - 11p.m. Sept-March: 7:30 a.m. to 7:30 p.m.
Prices : Free
Metro/Bus : Palais Royal - Musée du Louvre

Your comments : Jardins des Tuileries