Les Halles - Paris
Les Halles - Paris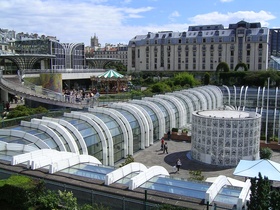 Les Halles is an area of the 1st arrondissement of Paris. Located in the heart of the capital, it takes its name from the central market, also known as Les Halles de Paris, held there until early 1970.
Today, this huge market has been replaced by green space (the Garden of Les Halles), an underground shopping mall (Forum des Halles), and many places devoted to leisure (swimming pool, cinema). The RER station Châtelet - Les Halles, located just below the complex is the largest underground station in the world and allows access from the entire Paris region.
Les Halles has become the heart of the capital, with an underground city at different levels.
It includes, at a time:
the largest station in the city (Châtelet-Les Halles), three RER lines, five and fourteen metro buses, which spend an average of 800,000 commuters each day
busiest commercial centers (the Forum), with its 41 million customers annually and 23 cinemas
The most popular pool
a garden of over four hectares
numerous public offices
a network of underground utilities.
The origins of the halles of Paris goes back to 1137, when Louis VII decided to create a market in the locality of Champeaux, located outside the walls at the location of former wetlands. Soon integrated into the center of Paris gradually expanding beyond the marshy belt, the halls become a great prosperous trading center. They then cease to grow and evolve over the centuries, wooden hall built in 1183 by Philippe Auguste and Louis IX in 1263 to build a new corn exchange in 1769 and management Cemetery of the Innocents in the flower market, fruit and vegetables, through the reconstruction of Henry III's main square, the tile, which is bordered by houses with the ground-floor galleries, the famous "Pillars" halls, and the widening of roads adjoining. However, these measures prove inadequate: at the end of the Ancien Regime, the halls are suffering from real problems of congestion and hygiene. In 1808, Napoleon I, who wanted to make the hall "Louvre of the people" began to give Paris a unified network of covered markets and to build a large central hall between the market of the Innocents and the corn exchange. But lack of time, that vision could not see the Napoleonic days.
Les Halles - Paris
Address :
105 Porte Berger
Zip code :
75001
City :
Paris - France
Area :
Marais, Notre-Dame
Website :
Les Halles - Paris
Phone :
01 44 76 96 56
Your comments : Les Halles