Montparnasse Cemetery in Paris
The Montparnasse Cemetery
The Montparnasse Cemetery is a cemetery located in Paris's 14th arrondissement. With its 19 hectares, the second necropolis intramural Paris is also one of the largest green spaces in the capital. It boasts 1,200 trees, mainly limes, Sophora, cedars, maples, ash and conifers.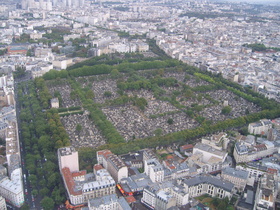 Montparnasse Cemetery is also known among the inhabitants of Paris as the cemetery to the south or left bank
Many famous people are buried in the cemetery of Montparnasse. A full list can be seen at Wikipedia.
It was classified a historic monument by a decree of November 2, 1931
Now, this vast garden flat and is a regular haven of peace in the heart of one of the liveliest areas of the city.
The cemeteries are open weekdays from March 16 to November 5 from 8 am to 18 pm and November 6 to March 15 from 8 am to 17 pm 30. Doors open at 8 am on Saturday 30, Sunday and holidays 9 am to Last visitors admitted later than one quarter of an hour before closing.
Montparnasse Cemetery in Paris

Address : 3, Boulevard Edgar Quinet
Zip code : 75014
City : Paris - France
Area : Saint-Germain-des-Prés / Quartier Latin
Phone : 01 44 10 86 50
Metro/Bus : Montparnasse - Bienvenüe
Your comments : Montparnasse Cemetery