Place des Vosges - Paris
Place des Vosges - Paris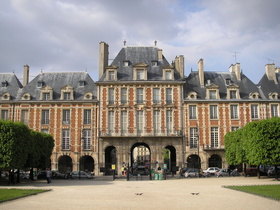 Place des Vosges is the oldest square in Paris. It falls into the Marais, as part of the third and fourth district of the city.
Originally known as "The royal palace" was built by Henry IV, extending the work from 1605 to 1612. With dimensions of 140 x 140 meters, is the first example of urban planning program in Europe.
Inaugurated in 1612 with a big party to celebrate the link between Louis XIII and Anne of Austria, became the prototype of a residential square in Europe.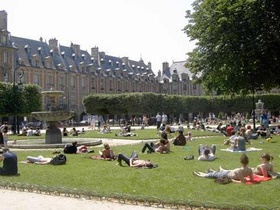 The center of the Place des Vosges is now occupied by Louis XIII Square, lined with rows of trees, with the center four fountains in the midst of lawns and an equestrian statue of Louis XIII. The statue, designed by Jean-Pierre Cortot and Charles Dupaty, was installed in 1825. The first statue dating from 1639 had been destroyed during the Revolution.
The four fountains fed by the Ourcq, were also designed by Jean-Pierre Cortot.
The Place des Vosges is now a peaceful place, a nice central park surrounded by arcades with shops and cafes
Place des Vosges - Paris

Address : Place des Vosges
Zip code : 75004
City : Paris - France
Area : Marais, Notre-Dame
Metro/Bus : Bastille, Saint-Paul, Chemin Vert
Your comments : Place des Vosges