Place du Tertre - Paris
Place du Tertre - Paris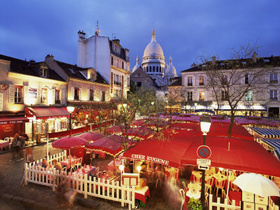 The Place du Tertre is located in district 18 of Paris, France, in the Montmartre district and a few meters from the Basilica of the Sacred Heart. At a height of 130 m above sea level, receives nombrosos painters and cartoonists.
With its many artists setting up their easels each day for the tourists, the Place du Tertre is a reminder of the time when Montmartre was the mecca of modern art. At the beginning of the 20th century, many penniless painters including Picasso and Utrillo were living there.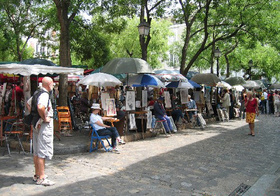 This is the place to come if you want to get your portrait, or that of your travel companion, drawn. Walk around this small square and look over the shoulder of an artist as he draws someone; or drink a coffee at one of the cafes which line every inch of the square.

The Place du Tertre is very romantic at night. You may want to go for a lovely musical dinner.
Place du Tertre - Paris

Address : Place du Tertre
Zip code : 75018
City : Paris - France
Area : Montmartre, Sacré-Cœur
Metro/Bus : Abbesses station (line 12), Anvers (line 6)
Your comments : Place du Tertre