The Sacred Heart - Montmartre hill
The Sacred Heart - Montmartre hill ( Le Sacré Coeur et la Butte Montmartre)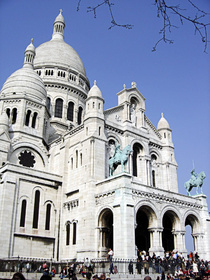 The hill of Montmartre in the North of Paris rises 129 meters above sea-level.
From the earliest days , Montmartre has been a place of worship: the Druids, the Gauls, the romains temples dedicated to the gods Mars et Mercury; St Peter's church rebuilt near the Royal Abbey of Montmartre on the XII century by King Louis the VI and his wife Adélaïde of Savoy; finally the Sacred Heart Basillica erected at the end of the XIX century.
Access to the dome by using the crypt - Overview onto Paris. Crypt : tombs of cardinals and of the archbishops of Paris who originated the building of the basilica .
The Sacred Heart - Montmartre hill
Address :
Basilique du Sacré Coeur - Montmartre
Zip code :
75018
City :
Paris - France
Area :
Montmartre, Sacré-Cœur
Website :
Basilique du Sacré Coeur - Montmartre
Opening hours :
Basilica : 6am - 10.30pm. Dome and crypt : 9am-5.45pm.
Phone :
01 53 41 89 09
Metro/Bus :
Metro : Anvers - Bus : 30, 31, 54, 80, 85, Montmartrobus
Your comments : Sacred Heart Montmartre hill