Sainte Chapelle in Paris
Sainte-Chapelle - Paris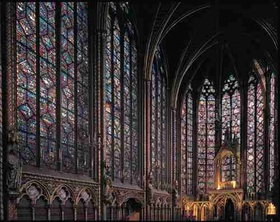 Jewel of gothic architecture, la Sainte-Chapelle was built during the second half of 13th Century by Louis IX, the future Saint Louis, to house the relics of the Passion of Christ. Adorned with a unique collection of fifteen glass panels and a large rose window forming a veritable wall of light, Sainte-Chapelle is a gem of French gothic architecture.
In 1239, after two years of negotiations, Louis IX bought Christ's crown of thorns from Beaudoin II, the Emperor of Constantinople, for a considerable sum. In 1241 he acquired some more relics from Byzantium and decided to build a monument worthy of such treasure, within the Palais de la Cité itself.
As well as its sumptuous windows, Sainte-Chapelle was decorated with wall paintings, which were faithfully restored in 19th Century, and carvings of a remarkable finesse and variety. The splendour of its architecture and décor and the ceremony attached to the worship of its relics had a marked influence on all artistic and liturgical creativity until the 16th Century.
You can buy a joint ticket to visit the Sainte-Chapelle and Conciergerie at the same time!
Sainte Chapelle in Paris
Address :
4, boulevard du Palais
Zip code :
75001
City :
Paris - France
Area :
Marais, Notre-Dame
Email :
la.sainte-chapelle
SPAMFILTER
@monuments-nationaux.fr
Website :
Sainte Chapelle - Paris
Opening hours :
Open every day 1 March to 31 October : 9:30 am to 6 pm 1 // November to 28 February : 9 am to 5 pm // Closed between 1 and 2 pm during the week 1 January, 1 May 1 and 25 December
Prices :
Adult rate : 8 € Reduced rate : 5 € Adult group rate : 6 € (minimum 20 persons) School group rate : 30 € (maximum 35 students, 2 accompananying adults included, adult group rate for additional accompananying adult) Free admission : Minors under 18 (family visit) 18-25 years old (for people under 26 years old who are citizens of one the 27 countries of EU).
Phone :
+33-1534060-93/97
Phone 2 :
Fax : + 33-153406096
Metro/Bus :
Metro : Cité - RER : Saint-Michel-Notre Dame - Bus : 21, 27, 38, 85, 96 and Balabus
Your comments : Sainte Chapelle in Paris