CENTQUATRE -104 in Paris
CENTQUATRE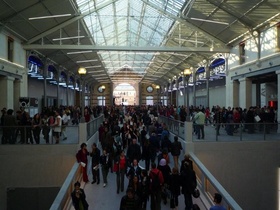 Politicians are now hoping the capital's temple of death will inject some life into the city's ailing modern arts scene.
The former state funeral parlour at 104 rue d'Aubervilliers in north-east Paris has reopened in october 2008, after being transformed into the city's most daring modern arts centre.
The restoration was elvaluated at €100m.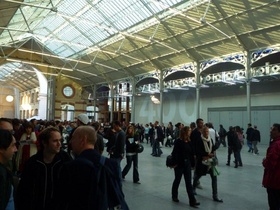 The only pay-off is that they must allow the public to wander through and inspect them at work. Some warn it could become an "artists' zoo" but others hail a revolution in contemporary cultural workspace.
CENTQUATRE is a place of artistic creation and production unique in the world. Open to all forms of art, this 39,000 m² (419, 792 sq. feet) space is an original architectural whole in which art meets the public head-on. The brainchild of two directors, Robert Cantarella and Frédéric Fisbach, aims in particular to highlight the singular artistic languages present at CENTQUATRE, the location for an experience rooted in the everyday. It is a place where the artistic dynamic pushes back the boundary between art and the public. At CENTQUATRE, therefore, art and culture are open to visitors as well as to passers-by and the onlookers. This powerful movement gives momentum to brand new methods of creation, production and visibility. The reception and working areas in CENTQUATRE, as well as all the programmes, festivals and events are thought out with this artistic dynamic in mind. The aim of the approach is to increase the number of channels for accessing contemporary creative art and allow unrestricted access to it.
CENTQUATRE -104 in Paris
Address :
104 rue d'Aubervilliers
Zip code :
75019
City :
Paris - France
Area :
No location
Email :
contact
SPAMFILTER
@104.fr
Website :
104 - CentQuatre - Paris
Opening hours :
From Monday to Sunday, 12:00 am - 7:00pm
Prices :
Free admission
Phone :
Tel: + 33 (0)1 53 35 50 00
Phone 2 :
Fax: + 33 (0)1 53 35 50 06
Metro/Bus :
Stalingrad

Your comments : CENTQUATRE paris