Musée des Arts Décoratifs - Paris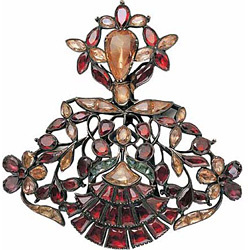 The Arts Décoratifs manage four museums: the Musée des Arts Décoratifs, the Musée de la Mode et du Textile, the Musée de la Publicité and the Musée Nissim de Camondo.
A total of some 357.100 works are divided between the various museums as follows:
Arts Décoratifs : 150,000 works in departments organized by period or specialty: from medieval furniture to contemporary design via the 18th-century in France, the Empire, Art Nouveau and Art Deco; as well as large collections of jewelry, toys, wallpaper, gold work, ceramics, glass, drawings and an Islamic and Oriental collection.The rich history of the decorative arts from the Middle Ages to modern day is documented in the spanking new museum; 9,000m2 of vast halls and spectacular views over the Tuileries gardens are reason alone to visit. To see absolutly is the Lanvin 'period rooms': Jeanne Lanvin's sumptuous private apartments designed by Rateau are recreated identically from the original.
Publicité : some 100,000 historical and contemporary posters as well as over 20,000 French and foreign advertising films from the 1930s to the present day, radio commercials, promotional objects, packaging, etc.
Mode et textile : 86,000 items of costume, accessories and textiles which trace the development of costume from the Copts to the present day and the development of new textiles since the 14th century. Complemented by a permanent loan from Ufac (Union française des Arts du costume), numbering over 45,000 costumes and accessories.
Musée Nissim de Camondo : 1,100 works making up one of the finest sets of furniture and objets d'art from the second half of the 18th century in France. Under the terms of his will, nothing can be added to Moïse de Camondo's art collections.
Musée des Arts Décoratifs - Paris
Address :
107, rue de Rivoli
Zip code :
75001
City :
Paris - France
Area :
Louvre, Opéra, Chatelet
Website :
Musée des Arts Décoratifs - Paris
Opening hours :
Tuesday to Friday from 11.00 a.m to 6.00 p.m - Wednesdays from 11.00 a.m to 9.00 p.m - Saturdays and Sundays from 10.00 a.m to 6.00 p.m
Prices :
9€
Phone :
+33 (0)1 44 55 57 50
Metro/Bus :
Louvre or Palais Royal - Bus 21, 27, 39, 48, 68, 72, 81, 95
Your comments : Musee des Arts Decoratifs