The Orsay Museum - Musée d'Orsay - Paris
The Orsay Museum in Paris - Le Musée d'Orsay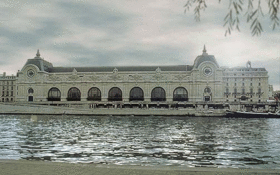 On the eve of the 1900 World's Fair, the French government planned to build a more central terminus station on the site of the ruined Palais d'Orsay. The new station needed to be perfectly integrated into its elegant surroundings. From 1900 to 1939,
Orsay station was the head of the southwestern French railroad network. The official decision to build the Musée d'Orsay was taken in 1977 and it has been opened to the public in December 1986 in order to show the artistic creation of the western world from 1848 to 1914. It is known worldwide for its famous impressionists collections.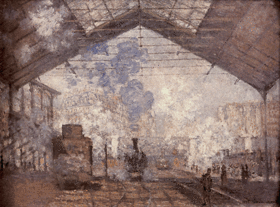 The museum's nationally-owned collections originate from three main institutions: the Musée du Louvre, the Musée du Jeu de Paume and the Musée National d'Art Moderne. Besides painting, sculpture, graphic arts and decorative arts, the museum has also established collections of furniture, architecture and photography.
The museum has been organized on three levels: on the ground floor, galleries are distributed on either side of the central nave, which is overlooked by the terraces of the intermediate level. These in turn opening up into additional exhibition galleries. The top floor is installed above the lobby, which covers the length of the quai, and continues into the highest elevations of the former hotel.
The Orsay Museum - Musée d'Orsay - Paris
Address :
62, rue de Lille
Zip code :
75007
City :
Paris - France
Area :
Saint-Germain-des-Prés / Quartier Latin
Website :
Musée d'Orsay - Paris
Opening hours :
The museum is open on Tuesdays, Wednesdays, Fridays, Saturdays and Sundays from 9.30am to 6pm and on Thursdays from 9.30am to 9.45pm
Prices :
8 Euros - Reduced rate : 5.5 Euros - On Sundays and from 4.15 pm (8 pm on Thursdays): 5.5 Euros - Admission free for under 18s
Phone :
+33 (0)1 40 49 48 14
Phone 2 :
Individual Visitors' services:+33 (0)1 40 49 49 78 and +33 (0)1 40 49 48 00
Metro/Bus :
Buses: 24, 63, 68, 69, 73, 83, 84, and 94- Métro: line 12, Solférino station - RER: line C, Musée d'Orsay station

Your comments : musee orsay paris