Picasso Museum in Paris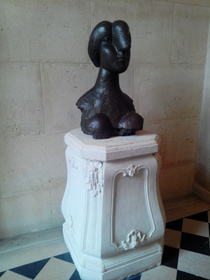 The Musée Picasso is situated in the heart of historic Paris, and has a collection of several thousand works of Pablo Picasso. Picasso was born in 1881 and he began to study art in 1895.
During his life he created diverse works: painting, sculpture, drawing, ceramics, engraving, and even poetry. After his death in 1973, many of Picasso's works went to the French state, which decided to form a museum with the collection.
To house the collection, they chose to use a seventeenth-century hotel, situated in the Marais. This is the Hôtel Salé that was built in 1656 for the general Aubert de Fontenay. Before housing the musée Picasso, the hotel was already well-known. It was leased to the ambassador of Venice, and it became the Central School of Art and Manufacture (and then the School of "métiers d'art"), and finally it was leased to the state in 1975. The restoration of the museum was completed in 1985.
A second restoration was completed in 2014. This is museum we visit today. A Beautiful new space.
Today, there are 203 paintings, 191 sculptures, 85 ceramics, and over 3000 drawings, engravings, and manuscripts in the museum (more than 5000 pieces that would be display from time to time and exhibition to exhibition. Besides the personal collection of Picasso, the museum also has some works of Cézanne and Matisse.
Picasso Museum in Paris
Address :
5, rue de Thorigny
Zip code :
75003
City :
Paris - France
Area :
Marais, Notre-Dame
Website :
Musée Picasso - Paris
Opening hours :
Open from Tuesday to Sunday. Closed on 25th December, 1st January and 1st May. Tuesday – Friday: 11.30am – 6pm Saturday – Sunday: 9.30am – 6pm Open until 9pm every third Friday of the month.
Prices :
11€
Phone :
01 42 71 25 21
Metro/Bus :
Metro: Saint-Paul, Chemin-Vert, Filles du Calvaire - Bus:29, 69, 76, 93

Your comments : Picasso Museum in Paris