Pinacothèque de Paris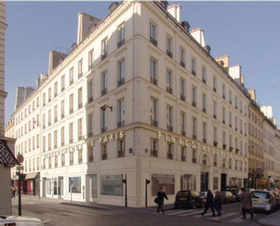 In few years only the Pinacothèque de Paris became one of the most successful museums of Paris.
Since 2007 this place directed by Marc Restellini, indeed gains very popular successes with for example 700.000 visitors for the "Dutch Golden age" exhibition and a true success for" The Gold of Incas".
In 2011 the Pinacothèque de Paris opened a new space of 3000m2 with 3 exhibitions evocating the birth of the museum.
A museum which has from now on its permanent collection..
In the veryheart of the Madeleine district, the Pinacothèque de Paris is open every day from 10-30 to 18-00.The ticket office closes at 17-15.
The wednesday until 21-00 (ticket office closes at 20-00).
During the late night openings, the visitors' service organizes cultural activities: Round tables, readings, debates, film showings, all these propositions provide a way of looking at the exhibitions differently.
Pinacothèque de Paris
Address :
28, place de la Madeleine
Zip code :
75008
City :
Paris - France
Area :
Louvre, Opéra, Chatelet
Email :
contact
SPAMFILTER
@pinacotheque.com
Website :
Pinacothèque de Paris
Opening hours :
Every day from 10:30am to 6pm.The ticket office closes at 5:30pm.
Prices :
10€ and 8€ for half rate (from 12 to 25 years, students, job seekers..)
Phone :
01 42 68 02 01
Metro/Bus :
metro Madeleine (8,12,14) - Buses Madeleine (24,42,52,84,94) - Velib: 4 Blvd Malesherbes or 4 rue Godot de Mauroy or 4 Place de la Madeleine.

Your comments : Pinacothèque de Paris