Thermes de Cluny and Musée National du Moyen Age of Paris
Thermes de Cluny and Musée National du Moyen Age of Paris
The Cluny baths are actually a retained part of a larger part forming large public baths, which extended from north to south, Boulevard Saint-Germain to the Rue des Ecoles, and from east to west, Boulevard Saint-Michel in the center of the court's current National Museum of the Middle Ages.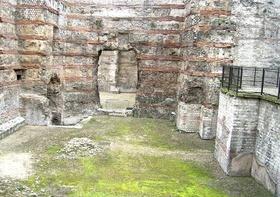 Much more than just a bathing establishment meeting the interests of hygiene, this monument, like all public baths, is a reflection of a typically Roman way of life. Rites baths could use additional optional practices related to maintenance of the body, the simple pleasure or social relations, and whose determination makes it difficult to define.
In general, public baths, which access was free or inexpensive, were, with their "refreshment" purposes, their lounges, or meeting libraries, the favorite meeting place of the inhabitants of a Paris.
The present bath ruins constitute about one-third of a massive bath complex that is believed to have been constructed around the beginning of the 3rd century.
The bath complex is now partly an archeological site and partly incorporated into the Musée du Moyen Age, and as such is the occasional repository for historic stonework or masonry occasionally found in Paris.
Thermes de Cluny and Musée National du Moyen Age of Paris
Address :
6 Place Paul Painlevé
Zip code :
75005
City :
Paris - France
Area :
Saint-Germain-des-Prés / Quartier Latin
Email :
contact.musee-moyenage
SPAMFILTER
@culture.gouv.fr
Website :
Thermes de Cluny
Opening hours :
Every day except Tuesday, 9 am 15 to 17: 45 pm Ticket office closes at 17 h 15 Closed 1 January, 1 May and 25 December.
Prices :
Full price: 8 € / Reduced price: 6 € / Under 26: free (for members of the European Community)
Phone :
01 53 73 78 00
Metro/Bus :
Cluny - La Sorbonne
Your comments : Thermes de Cluny and Musée National du Moyen Age