A la Civette - Palais Royal - Cigar shop in Paris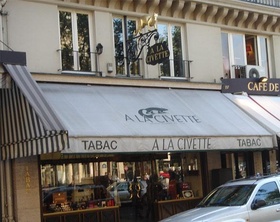 A la Civette is the other monument of the Palais Royal in Paris.
Founded in 1716, A la Civette, near the Louvre Museum , is the oldest place for the amateurs of cigars in Paris and in France.
Among the famous customers let us quote: Louis-Philippe d'Orléans, Casanova, Voltaire, Churchill and back our days Micheal Jordan.
This place belongs from now on to Dorothée Weisz-Spriet and her family.
You will be able to find there more than 350 reference including 75% of Cuban cigars (Habanos), 20% of Davidoff products and the other territories 10% (Dominican Republic, Honduras..).
For the Habanos: Partagas D4 and Montecristo N°4 are in head of the best sales followed by Lusitanias of Partagas and the shorts Robustos like Hoyo de Monterey.
Concerning the conservation one must appreciates particularly the splendid walk in (large humidor) where cigars are presented on racks.
The personnel is from now on qualified and impassioned and expresses itself perfectly in English.
It is one of our preferred cigar stores in Paris for its broad choice of Cuban, vintages (in fact only Limited Editions), and many others small surprises.
Of course they are also specialized in luxury humidors and articles for cigar smokers...
A la Civette - Palais Royal - Cigar shop in Paris

Address : 157, rue Saint Honoré
Zip code : 75001
City : Paris - France
Area : Louvre, Opéra, Chatelet
Opening hours : From 10 am to 7pm - From monday to saturday.
Phone : 01 42 96 04 99
Metro/Bus : Louvre , Palais Royal

Your comments : A la Civette Cigar shop in Paris