Christian Constant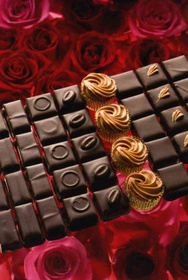 Self-proclaimed « composer of chocolates » Christian Constant will dazzle you with more astonishing creations the ones than the others: candy, pastries, sorbets, ice creams and of course ganaches!!
Its ganaches are the result of his worldwide research and travels, that have earned him a place among the forty "immortals" of the very serious French Academy of Chocolates: that is to say ;-).
Once again, best is to taste by yourself while in Paris!
Christian Constant
Address :
37 Rue Assas
Zip code :
75006
City :
Paris - France
Area :
Saint-Germain-des-Prés / Quartier Latin
Website :
Christian Constant - Paris
Opening hours :
8:30am to 8:3pm and Sunday from 9am to 8pm.
Phone :
01 53 63 15 15
Metro/Bus :
Rennes, Notre-Dame-des-Champs
Your comments : Christian Constant