Marie-Anne Cantin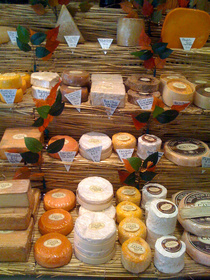 There are more than 350 traditional cheeses in France. 56 cheeses are classified protected, and regulated under French law mostly by an AOC status (Appellation d'origine contrôlée (AOC), which translates as "controlled designation of origin"). Camembert de Normandie for example is an AOC...
Useless to say that finding a good "fromagerie" is what's most important to Parisians and Marie-Anne Cantin'shop is one of the best in Paris.
To age her precious cheeses she has not less than seven cellars.. Uncompromising on quality and authencity, Marie-Anne Cantin selects only the best of cheese, including raw milk cheeses, all made in limited quantity within small farms.
Be confident, this is the place to buy few cheeses and good baguette bread for enjoying a great day before visiting another well known lady - the Eiffel Tower just a few blocks away...
Marie-Anne Cantin
Address :
12, rue du Champ de Mars
Zip code :
75007
City :
Paris - France
Area :
Eiffel & Trocadéro
Website :
Marie-Anne Cantin - Paris
Opening hours :
Monday : 2pm - 7:30pm // Tuesday to Saturday : 8:30am to 7:30pm // Sunday: 8:30am to 1pm
Phone :
01 45 50 43 94
Metro/Bus :
Ecole militaire, Tour Maubourg
Your comments : Marie-Anne Cantin