The Eiffel Tower in Paris
The Eiffel Tower in Paris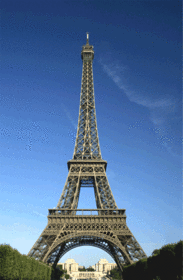 The Eiffel Tower is one of the most famous monuments in the world (324 metres, 10,100 tonnes).
Was built by Gustave Eiffel in 1889 for the World Fair, where it was the star attraction.
Information, historical and technical explanations on all three levels, Gustave Eiffel's offices on the third one.
Viewpoint indicator on the 2nd and 3rd floors.
You can go to few to restaurants on the Eiffel Tower, the most known is the " Le Jules Verne" Just great to dine there!!
The Eiffel Tower in Paris
Address :
5 avenue Anatole France
Zip code :
75007
City :
Paris - France
Area :
Eiffel & Trocadéro
Website :
Tour Eiffel - Paris
Opening hours :
The Eiffel Tower is open every single day of the year // from 9 a.m. to midnight from 17 June to 28 August // from 9:30 a.m. to 11 p.m. during the rest of the year // At Easter weekend and during the Spring holidays : extended opening hours to midnight.
Prices :
Lift: 1st floor: 4.10 Euros / 2nd floor: 8,5 Euros / 3rd floor: 14.5 Euros/ For children 4-11 yrs by lift:1st floor: 4 Euros;2nd floor: top floor: 7,5 Euros// By the stairs: 1st and 2nd floors 4.50 Euros adults and 3 euros Children 4 - 11.
Phone :
08 92 70 12 39
Phone 2 :
01 44 11 23 11
Metro/Bus :
Metro : Bir Hakeim - RER : C : Champ de Mars- Bus : 42, 69, 72, 82,87
Your comments : Eiffel Tower Paris