Le Grand Palais des Glaces
12 Dec 2012 - 16:29
Everyday, from December 13h, 2012 until January 6th, 2013, the Grand Palais of Paris hosts the largest fleeting ice rink ever created in France : 1.800 m² of ice… For children by daytime and adults by night time!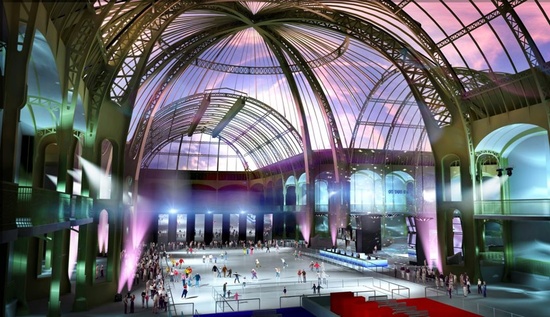 Important, cut-line pass and other tickets won't be accepted for nights at the Grand Palais des Glaces ! Only evening tickets bought at the entrance.
Opening schedule of the ice rink:
From Monday to Sunday, 10.00am till 9.00pm*
Evenings:
Thursdays, Fridays and Saturdays, nights from 8.00pm till 2.00am. We have dinner, we skate under the sun lounge lights show, rythmed by the DJ On Ice sound.
Single rates (including skates rental):
Adults : 12€
Children (till 12 years) : 6€
Evenings / nights : 20€ (tickets are not sold online).
Access:
Underground : lines 1, 9, 13 (stations Franklin-D.-Roosevelt and Champs-Élysées Clemenceau)
RER : line C (station Invalides)
Buses : lines 28, 42, 52, 72, 73, 80, 83 et 93
Car Park: Rond-point des Champs-Elysées, place de la Concorde, rue François-1er, Alma Georges-V, Champs-Elysées Lincoln, Matignon.
Unique price of 20€ per person, including skate rental for evening tickets:
Thursday 13 December: closed
Friday 14 December: from 19h30 till 02h
Saturday 15 December: from 20h30 till 02h
Tuesday 18 December: from 19h30 till 02h
Thursday 20 December: pas de nocturne
Friday 21 December: from 19h30 till 02h
Saturday 22 December: from 20h30 till 02h
Thursday 27 December: from 19h30 till 02h
Friday 28 December: from 19h30 till 02h
Saturday 29 December: from 20h30 till 02h
Thursday 03 January: from 19h30 till 02h
Friday 04 January: from 19h30 till 02h
Saturday 05 January: from 20h30 till 02h
Your comments : Le Grand Palais des Glaces