Nuit Blanche 2012
2 Oct 2012 - 11:57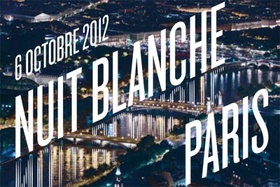 This year the Nuit Blanche 2012 in Paris si going to be a promenade from East to West.
On saturday October 6th 2012 the city of Paris will offer you a completely new route: a meandering line that crosses Paris from West to East, from Chaillot hill to Ivry-sur-Seine.
Laurent Le Bon, director of Metz Pompidou Center is for this time the director of this new edition.
His proposal is an invitation to explore the architecture of the city in all its contemporary complexity, and an opportunity for the public to enjoy, for the first time, belvederes, vantage points over the city that are usually not accessible but allow to take a glimpse at unfamiliar views of Paris and the Seine...
Practical information
When does Nuit Blanche take place?
The night between Saturday 6 October and Sunday 7 October.
From 7pm until 7am in the morning.
Access to all works and events is free. No reservation necessary.
Discover the complete programme for Nuit Blanche 2012 (in French - pdf).

Information points
Three information points are distributed along the path, in order to guide visitors towards the artistic projects on the programme.
- Champs-Elysées Clémenceau
On the central reservation, at the crossroads of Avenue Winston Churchill and Avenue des Champs-Élysées
Metro stop: Champs-Élysées – Clemenceau (lines 1 and 13)
Open Saturday from 4pm until 6am
- The square of Hôtel de Ville
Metro stop: Hôtel de Ville (lines 1, 7 and 11)
Open Saturday from 4pm until 6am
- Institut du Monde Arabe
On the central reservation, at the foot of the Institut du Monde Arabe
Quai Saint-Bernard
Metro stop: Jussieu (lines 7 and 10) / Metro stop: Sully-Morland (line 7)
Open Saturday from 4pm until 6am
Note: Nuit Blanche has become a national and international event. You will find events in several towns near Paris with the "TRAM network". Please note: dates and times for these events are not necessarily the same as the dates and times in Paris.

Nuit Blanche on your mobile
A free mobile application will be available in two versions (iPhone and Android). It will offer a catalogue of works and all practical information.
Nuit Blanche on Twitter
On Twitter, you can share your impressions and any practical information by using the Hashtag #nb12
Your comments : Nuit Blanche 2012