The kaleidoscope installation of Daniel Buren - Monumenta 2012
10 May 2012 - 10:35
This time Daniel Buren's work in situ is made of hundreds of horizontal circles, each touching the next, some larger, some smaller, some a little higher, some lower, fill the space.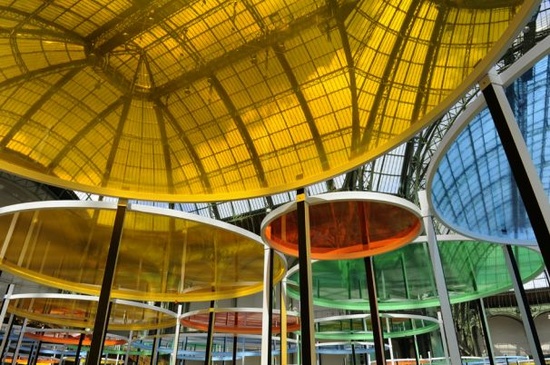 Each sculpture is stretched with a membrane of translucent plastic film blue, yellow, orange or green. These are supported by black and white vertical posts, so many that they become a forest, half-drowned in colour and shadow.
Daniel Buren is the fifth artist to take part in Paris's Monumenta project with his kaleidoscope installation.
MONUMENTA 2012 – Daniel Buren
Installation opens to the public from 10th May to 21st June 2012
Standard admission: 5.00 euros
Address
Nave of the Grand Palais – North entrance
Avenue G. Eisenhower 75008 Paris
Opening times
Daily except Tuesday
From 10:00-19:00, Mondays and Wednesdays
From 10:00-24:00, Thursdays to Sundays
Admissions close 45 minutes before exhibition closing.
Access with tickets 30 minutes before exhibition closing.
Access
Metro: lines 1, 9, 13 / Station: Franklin Roosevelt, Champs-Elysées-Clemenceau
Bus: lines 28, 32, 42, 72, 73, 80, 83, 93
Your comments : The kaleidoscope installation of Daniel Buren - Monumenta 2012