Bike hire in Paris
Bike hire in Paris with Vélib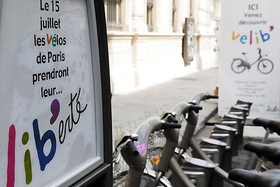 You can rent a bike in Paris with Velib. (Vélib for vélo "bike", and lib for "liberty").
Anyone can pick up a bike at any metro station or anywhere there's a "borne" (stand) of bikes, ride around for half an hour, and then leave it at any Velib' stand.
The first half hour is free, and not only that, the bikes themselves are extremely cool, a sort of futuristic bike that makes you feel like there is nothing more high-tech and advanced than a bicycle. (bikes has been designed by French designer Patrick Jouin)
We recommend you one of our various Guided Bike Tours, so you will be guided by our professional guides and get to know the real Paris.
How tu use Velib ?
Vélib' is a Self Service "bike hire" system available 24 hours a day, 7 days a week.
Multi pick up and drop off location allows you to pick up your bike from one service point and drop off to another. Pick up a bike from any station with your credit card (attention: your card must have a microchip, or it won't work); then deposit it at the station closest to your final destination (there's only about 300 metres between each station).
Short-term subscription
Short-terms users can also subscribe to Vélib'. A 1-day or a 7-day Vélib' ticket is available for purchase on the web or at any of our Vélib' Service Points.
Day Vélib' ticket (€1,70) and 7-day Vélib' ticket (€8)
A 1 Day or 7 Day Vélib' Ticket gives you unlimited number of journeys for the duration of the subscription period.
April 2011 new rates to rent a Velib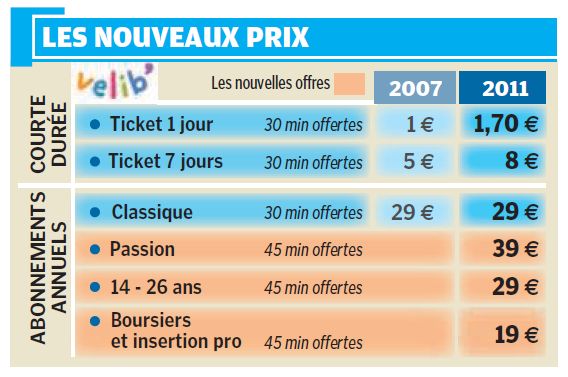 The Official Vélib website very soon in English
Service points:
The Vélib' Service Points are available 24 hours a day 7 days a week. It is located 300 meters apart, consisting of terminals and stands for fastening the bikes....
Find a Velib service point in Paris on Google maps
You can use Velib from 14 years old.. Bikes are too heavy for the youngsters.
Your comments : Bike hire in Paris