Smoking/No smoking in Paris
Smoking/No smoking in Paris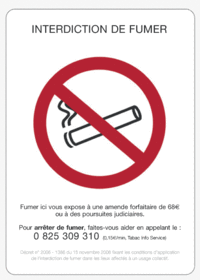 Perhaps you're a smoker, or on the contrary, you cannot bear smoke… and you'd like to know how France deals with such things? Smoking is generally well tolerated in Paris and in France, but is nonetheless restricted to specific areas. Cigarettes are barred from a good number of places, in particular enclosed public buildings and public transport.
Hotels
You can smoke in your hotel room unless there is a specific sign forbidding it, but the hotel must conform to required ventilation standards. The public areas, like the breakfast room, reception and the corridors are generally no-smoking areas. All youth hostels are as a general rule entirely non-smoking.
Restaurants, cafés, clubs
Restaurants are obliged to provide designated smoking and non-smoking zones. As you go in you will be asked in which section you prefer to be seated. However, depending on the layout of some places, tobacco odours cannot always be prevented from drifting over to the no-smoking zone. Cafés and clubs remain the places where the law may be not so strictly adhered to: mutual respect is ultimately the only rule.
Shops, cinemas, theatres, hospitals, public services
Smoking is strictly prohibited by law in these public places.
Schools and universities
Smoking is against the law in schools, universities and other educational establishments, including the open spaces (playgrounds, stadiums...).
Public transport
French law prohibits smoking in public transport, throughout the Paris and Ile-de-France network: metro, bus, RER, suburban trains and trams. Railway and metro stations are also entirely non-smoking, although you may come across certain recalcitrant individuals, despite the no-smoking signs and anti-smoking campaigns.
Taxis are usually non-smoking.
At the office
Some companies provide a special smoking area for their employees, but more and more office buildings have totally excluded any smoking at all. For example in the business district of La Défense, some high-rise blocks are completely cigarette-free.
Where can you buy cigarettes?
In tobacconists ("bureaux de tabac") which are recognizable by their red diamond-shaped signs. The average price of a packet of cigarettes is €5. In other places (restaurants, bars, clubs), a packet will cost you a bit more.
Your comments : Smoking No smoking