Quartier Latin and Saint-Germain-des-Prés city visit in Paris
The Latin Quarter of Paris, or "Quartier Latin" in French, is located on the left bank of the River Seine, around the Sorbonne University in the 5th and 6th arrondissement of Paris. Next to the Latin quarter you'll find Saint-Germain-des-Prés area.
The left bank was the heart of the intellectual establishments in the 60's
Both are synonymous in French of "rive gauche", that is the left bank, that is also a state of mind. Everybody in the world should know Le Quartier Latin and Saint-Germain-des-Prés: it's one of the postcards of Paris buzzing with artists, students and sidewalk cafés. It was the heart of the intellectual establishments in the 60's with philosophers, revolutionaries, publishers, writers, musicians..
Best is to visit this area without precise direction thru the narrows streets to feel the spirit of the left Bank.
But to make it easier we invite to start from Notre-Dame Cathedral and finish at Orsay Museum...
A great journey to come!!
Remember that:
Museums are open from 10am to 6pm and are closed Monday or Tuesday.
Shops often are open from 9am to 7pm.
Restaurants are open from 11:30am to 2pm and from 7:30pm to 11pm
1 - Notre-Dame Cathedral
Address : 6 Place du Parvis Notre Dame
Opening hours : No visit during the religious service./ April 1to May 31 and September 1 to 30: from 10a.m. to 6.30p.m./ June 1 to August 31: from 10a.m. to 6.30p.m., Saturday and Sunday 10a.m. to 11p.m./ October 1 to March 31: from 10a.m. to 5.30p.m./ Last admissions 45min before closing time./ Closed on January 1, May 1 and December 25
Phone : +33 (0)1 42 34 56 10
Metro/Bus : Metro : Cité - RER : Châtelet-Les Halles, Saint-Michel - Bus : 21, 24, 27, 38, 47, 85, 96
Notre-Dame de Paris Cathedral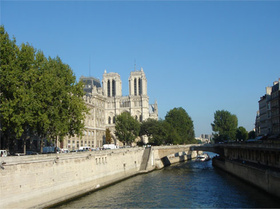 Masterpiece of Gothic architecture, the cathedral Notre-Dame de Paris,imaginated by Bishop Maurice de Sully was built between the 12th and the 14th centuries (1163-1345). The French road distances are established from the "0 km" point located on the square in front of the cathedral entrance.
You can also visit the Treasure of Notre-Dame de Paris.
Collection : Jewellery, History, Sculpture, Painting, Furniture, Literature, Medals, Stained-glass windows 12th century
2 - La Sainte-Chapelle
Address : 4, boulevard du Palais
Opening hours : Open every day 1 March to 31 October : 9:30 am to 6 pm 1 // November to 28 February : 9 am to 5 pm // Closed between 1 and 2 pm during the week 1 January, 1 May 1 and 25 December
Phone : +33-1534060-93/97
Metro/Bus : Metro : Cité - RER : Saint-Michel-Notre Dame - Bus : 21, 27, 38, 85, 96 and Balabus
Sainte-Chapelle - Paris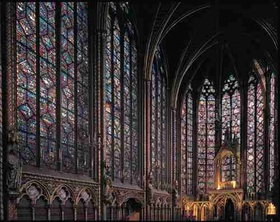 Jewel of gothic architecture, la Sainte-Chapelle was built during the second half of 13th Century by Louis IX, the future Saint Louis, to house the relics of the Passion of Christ. Adorned with a unique collection of fifteen glass panels and a large rose window forming a veritable wall of light, Sainte-Chapelle is a gem of French gothic architecture.
In 1239, after two years of negotiations, Louis IX bought Christ's crown of thorns from Beaudoin II, the Emperor of Constantinople, for a considerable sum. In 1241 he acquired some more relics from Byzantium and decided to build a monument worthy of such treasure, within the Palais de la Cité itself.
As well as its sumptuous windows, Sainte-Chapelle was decorated with wall paintings, which were faithfully restored in 19th Century, and carvings of a remarkable finesse and variety. The splendour of its architecture and décor and the ceremony attached to the worship of its relics had a marked influence on all artistic and liturgical creativity until the 16th Century.
You can buy a joint ticket to visit the Sainte-Chapelle and Conciergerie at the same time!
3 - La Conciergerie
Editor's choice : Conciergerie - Monument
Address : boulevard du Palais
Opening hours : Open everyday : 9.30 am to 6 pm / Last entry 30 minutes before closing time./ Closed on January 1, May 1 and December 25.
Phone : 01 53 40 60 93
Metro/Bus : Metro: Châtelet, Saint-Michel, Cité: lines 1, 4, 7, 11 and 14 / Bus: 21, 24, 27, 38, 58, 81, 85 and Balabus / RER:Châtelet-les-Halles, Saint-Michel, Notre-Dame: lines B and C - Follow the Seine banks to Ile de la Cité
The Conciergerie (La Conciergerie) Paris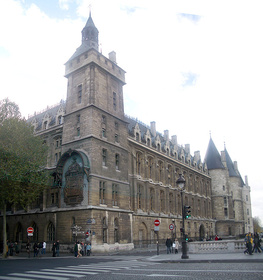 Built in the early 14th century, this Gothic architecture, complete with men-at-arms room, guardroom and kitchen, The Conciergerie is located on Ile de la Cité and was built by Phillipe the Fair (1284 - 1314). The architects of this fortress were Nicolas des Chaumes and Jean de Saint-Germer where this palace was part of the residence of the kings before the Louvre. Following, the departure of the Kings, the Concierge rented it out to shopkeepers.
In 1391, the Conciergerie became the first prison of Paris when this residence accommodated the seat of the Parliament and the judicial power. During the French Revolution, nearly 3,000 condemned spent their last days here. They were then transported to Concorde Square to be guillotined. Amongst them were Marie-Antoinette, the Austrian and wife of Louis XVI and Charlotte Corday, arrested to have stabbed Marat in his bath.
Danton also has his share of stay here. Today you can visit the Prisoners' Gallery, where the cells have been reconstituated according to those time. The windows of this gallery overlooks onto the Women's Square, where the prisoners take their walk. The dungeon of Marie-Antoinette was reconstituted and her original cell was transformed into a chapel, according to the wish of Louis XVIII. You will also find mementos of the French Revolution during your visit.
4 - Pont Neuf
Editor's choice : Pont Neuf - Monument
Address : Pont Neuf
Metro/Bus : Pont Neuf, Cité, Odéon
Pont Neuf - Paris
The Pont Neuf is, despite its name, the oldest bridge in Paris which crosses the Seine. Still intact is the subject of a classification as a historic monument since 1889, and also Paris's best known bridge and together with the Pont Alexandre III, one of its most beautiful.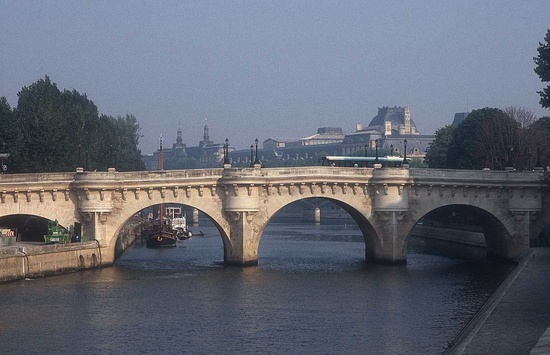 He was listed as World Heritage by UNESCO in 1991, with all the banks of the Seine in Paris.
With 232m (761ft) long and 22m (72ft) wide Pont Neuf was a modern bridge with several innovations. The Pont Neuf was the first bridge in Paris without houses built on it.
The bridge has a total of 12 arches, with one span of seven arches joining the right bank and another span of five arches connecting Île de la Cité with the left bank.
5 - Thermes de Cluny
Address : 6 Place Paul Painlevé
Opening hours : Every day except Tuesday, 9 am 15 to 17: 45 pm Ticket office closes at 17 h 15 Closed 1 January, 1 May and 25 December.
Phone : 01 53 73 78 00
Metro/Bus : Cluny - La Sorbonne
Thermes de Cluny and Musée National du Moyen Age of Paris
The Cluny baths are actually a retained part of a larger part forming large public baths, which extended from north to south, Boulevard Saint-Germain to the Rue des Ecoles, and from east to west, Boulevard Saint-Michel in the center of the court's current National Museum of the Middle Ages.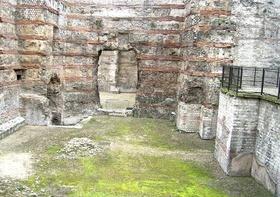 Much more than just a bathing establishment meeting the interests of hygiene, this monument, like all public baths, is a reflection of a typically Roman way of life. Rites baths could use additional optional practices related to maintenance of the body, the simple pleasure or social relations, and whose determination makes it difficult to define.
In general, public baths, which access was free or inexpensive, were, with their "refreshment" purposes, their lounges, or meeting libraries, the favorite meeting place of the inhabitants of a Paris.
The present bath ruins constitute about one-third of a massive bath complex that is believed to have been constructed around the beginning of the 3rd century.
The bath complex is now partly an archeological site and partly incorporated into the Musée du Moyen Age, and as such is the occasional repository for historic stonework or masonry occasionally found in Paris.
6 - National Museum of the Middle Ages
Address : 6, place Paul Painlevé
Opening hours : Every day except Tuesdays from 9.15 a.m to 5.45 p.m
Phone : +33(0)1 53 73 78 00
Metro/Bus : M° Cluny La Sorbonne (ligne 10), M° St Michel (ligne 4), M° Odéon (lignes 4 et 10) - Bus 21, 27, 38, 63, 85, 86, 87
The National Museum of the Middle Ages (Musée National du Moyen-Age)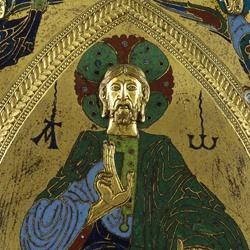 The Musée National du Moyen-Age in french is located in the Gallo-Roman baths and the Hôtel des Abbés de Cluny (15th century): houses antique sculptures and one of the richest mediaeval collections in the world. Medieval garden.
The National Museum of the Middle Ages holds a number of pieces dating back to before the Middle Ages, illustrating the varied roots of medieval artistic creation.
7 - Jardin du Luxembourg
Address : 5, Impasse Royer-Collard
Opening hours : Monday - Sunday: 07:30 to 21:30 or from 08:15 to 17:00 (depending on the length of day)
Metro/Bus : Odéon
Jardin du Luxembourg
The Luxembourg Gardens is a private garden open to the public, located in the Sixth Arrondissement of Paris. Created from 1612 at the request of Marie de Medici, it has undergone a restoration led by the architect Jean-François-Thérèse Chalgrin under the First Empire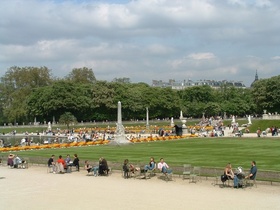 Garden full of charm, called 'Luco' remains, despite its prestige and grandeur, a garden area. It was attended by successive generations of Parisians, carrying in their adult lives the memories of racing sailboats on the central pool, pony rides, drop-candy in small wooden green huts (there exists seven) or swings that seemed gigantic. This beautiful French garden is also a museum of outdoor sculpture and educational place where you can learn the secrets of the tree culture and beekeeping.
It covers 23 hectares (21 open to the public) filled by flower beds and sculptures. Appointment favorite of Parisians, students or walkers, it also attracts visitors from around the world.
8 - Fondation Cartier
Address : 261, Boulevard Raspail
Opening hours : Open every day except Monday, from 11h to 20h, 22h on Tuesdays.
Phone : 01 42 18 56 50
Metro/Bus : Raspail
Cartier Foundation
Cartier Foundation, established in 1984, settled in 1994 in a building glass facade built as a vast horn-eye, designed by architect Jean Nouvel.
The foundation aims to disseminate a variety of works by living artists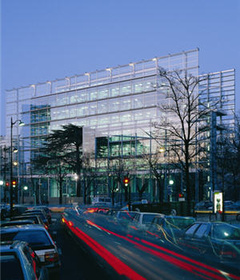 Eclecticism and diversity are the watchwords of this museum which brings together large groups of strong personalities of contemporary art. Arman, César, Raymond Hains, Jean-Pierre Raynaud, but also younger figures in French art scene, Alberola, Jean-Charles Blais, or international, are presented as Mathew Barney Boulevard Raspail.
The Foundation welcomes all forms of contemporary art without restrictions, painting and video, drawing and photography, sculpture and installation. It offers a panorama vast enough that flourished in the 1980s, with roots in the revival of artistic practice in the 1960s and 70s. Collections are complemented by exhibitions.
The Cartier Foundation also organizes 'nomadic nights' events related to arts, in agreement with the exhibitions.
9 -Bourdelle Museum
Address : 18, Rue Antoine Bourdelle
Opening hours : Every day except Monday and holidays, from 10 to 18.
Phone : 01 49 54 73 73
Metro/Bus : Montparnasse - Bienvenüe
Bourdelle Museum in Paris
Housed in the studios of the sculptor Antoine Bourdelle (1861-1929) who lived and worked there, this museum houses an outstanding collection of bronzes and marbles.
The workshop has been kept intact, with its high windows and furniture.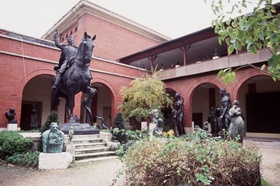 Over 500 works of sculpture in marble, plaster, bronze, polychrome materials, paints, pastels, fresco cartoons for the Theatre des Champs Elysees and the personal collection of Bourdelle fall in the halls and gardens of the museum. The aim is to present the work of Bourdelle in order to show the variety and creative power of it.
It gives an idea of the atmosphere in Montparnasse at the end of the century and into the Roaring Twenties.
The museum gained momentum thanks to the work of architect Henri Gautruche in 1961, a second part was built in 1992 by Christian de Portzamparc.
10 - Cimetière de Montparnasse
Address : 3, Boulevard Edgar Quinet
Phone : 01 44 10 86 50
Metro/Bus : Montparnasse - Bienvenüe
The Montparnasse Cemetery
The Montparnasse Cemetery is a cemetery located in Paris's 14th arrondissement. With its 19 hectares, the second necropolis intramural Paris is also one of the largest green spaces in the capital. It boasts 1,200 trees, mainly limes, Sophora, cedars, maples, ash and conifers.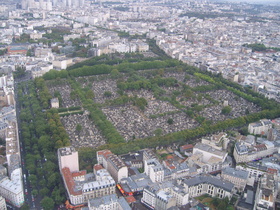 Montparnasse Cemetery is also known among the inhabitants of Paris as the cemetery to the south or left bank
Many famous people are buried in the cemetery of Montparnasse. A full list can be seen at Wikipedia.
It was classified a historic monument by a decree of November 2, 1931
Now, this vast garden flat and is a regular haven of peace in the heart of one of the liveliest areas of the city.
The cemeteries are open weekdays from March 16 to November 5 from 8 am to 18 pm and November 6 to March 15 from 8 am to 17 pm 30. Doors open at 8 am on Saturday 30, Sunday and holidays 9 am to Last visitors admitted later than one quarter of an hour before closing.
11 - Maillol Museum
Address : 61, Rue de Grenelle
Opening hours : 10:30 a.m. to 7:00 p.m. Ticket sales until 18.15
Phone : 01 42 22 59 58
Metro/Bus : Sèvres - Babylone - Rue du bac
Maillol Museum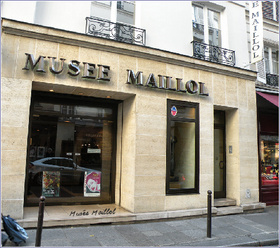 Fondation Dina Vierny-Maillol Museum presents more than Maillol's work in many other collections of modern art.
Created in 1995 by Dina Vierny, the muse of sculptor Aristide Maillol, it features many works by Maillol and a large collection of modern art of the twentieth century (painting, sculpture and drawing). Temporary exhibitions are devoted to the art of the twentieth and twenty-first centuries.
Aristide Maillol memory is celebrated by presenting all of his work, which begins with painting Nabi and continues with the decorative arts and sculpture.
One room is dedicated to friends of Maillol, works that Maillol himself had. We can find works of Gauguin, Pierre Bonnard, Odilon Redon, Maurice Denis. Abstraction is represented by Kandinsky, Ivan and Serge Pouni Poliakov and Emile Gilioli sculpture.
The second part of the permanent collections of the Fondation Dina Vierny is devoted to modern art and contemporary artists. Dina Vierny had met such an important collection of Modern Primitives around a painting of Henri Rousseau: Bauchant, Bombois, Rimbert, Seraphine, Vivin, Racoff, Peyronnet, Desnos.
Current exhibition: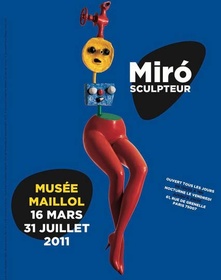 Miró Sculpteur
From march 16 to July 31, 2011
Every day from 10:30am to 7pm and 9pm on friday
13€
Maillol museum presents for the occasion 99 sculptures, 22 ceramics and 20 works on paper. Works presented come mainly from the exceptional collection of the Foundation Marguerite and Aimé Maeght.
12 - Musée Rodin
Editor's choice : Rodin Museum - Museum
Address : 77, rue de Varenne
Opening hours : Every day except Mondays from 9.30 a.m to 5.45 p.m (April 1st-Sept.30th) and from 9.30 a.m to 4.45 p.m (Oct.1st-March 31th)
Phone : informations:01 44 18 61 10
Metro/Bus : Metro: Varenne (ligne 13) , RER: Invalides (ligne C) , Bus: 69, 82, 87, 92
Musée Rodin Paris - Rodin Museum in Paris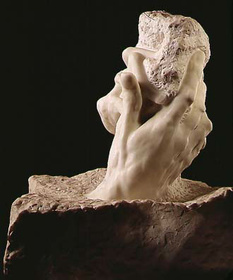 Bronze and marble work by Auguste Rodin (1840-1917), works by Camille Claudel, Van Gogh, Monet, Renoir etc. Large sculpture in the garden.
As a Public Administrative Establishment under the aegis of the Ministry of Culture, the Musée Rodin is endowed with a legal personality and is independent with regard to its income and expenditure.
With an average of 500,000 visitors a year, it is one of the most popular museums in France, coming after the Louvre, Versailles and the Musée d'Orsay, but ahead of the Orangerie and the Picasso museum.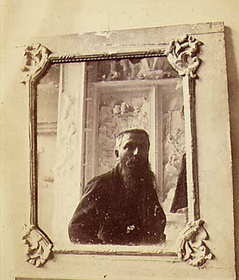 This obviously reflects the renown and notoriety of Rodin's work. It also reflects the special charm of the site and its grounds, the whole southern part of which was remodelled in 1993, but also of the building housing the Master's works and collections. Everything comes from Rodin, including the chairs, armchairs or sofas where visitors are free to sit down. The Musée Rodin does not set out to reconstitute a period, which would in any case be impossible, but it offers the unique charm of an artist's home where it is pleasant to stroll at leisure.
The Cafeteria opening hours:
9.30 a.m. to 6.30 p.m., from 1 April to 30 September
9.30 a.m. to 4.30 p.m., from 1 October to 31 March
Tel: 01 45 50 42 34
13 - Musée du Luxembourg
Address : 19 rue de Vaugirard
Opening hours : daily from 10am – 8pm, and until10pm on Fridays and Saturdays.
Phone : 01 40 13 62 00
Metro/Bus : Metro: line 4, to Saint Sulpice; line 10, to Mabillon // Bus: lines 58, 84, 89, to Luxembourg ; Lines 63,70, 87, 86, 93, to Saint Sulpice
Initially housed in the Palais du Luxembourg that Marie de Medici had built between 1615 and 1630, the Musée du Luxembourg was the first French museum to be opened to the public, in 1750.
At that time, visitors could admire twenty-four paintings by Rubens celebrating Marie de Medici and around a hundred paintings from the Royal collection (Cabinet du Roi) by Leonardo da Vinci, Raphael, Veronese, Titian, Poussin, Van Dyck and Rembrandt.
The Musée du Luxembourg is today one of the leading exhibition spaces in Paris, enabling its numerous visitors to enjoy the masterpieces of Botticelli, Raphaël, Titian, Arcimboldo, Veronese, Gauguin, Matisse, Vlaminck, Modigliani and lately Lucas Cranach.
Current exhibition: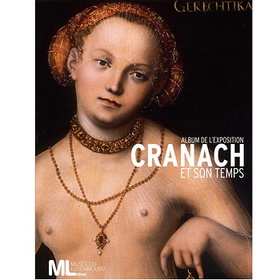 From February 9th to May 23rd 2011:
"Cranach in his time"
Lucas Cranach (circa1472-1553), one of the major artists of the German Renaissance. This prolific, versatile painter whose career spanned the first half of the 16th century, is still somewhat unknown to the French public, who have not had an opportunity for some time to discover the breadth of his work.
The Musée du Luxembourg's exhibition, Cranach and his time, provides a better understanding of this artist's place in the history of art and his involvement in the society of his time, a period marked by major political and religious upheavals.
+ Find here the audio guide of this visit for iPhone and iPad..
14 - Orsay Museum
Editor's choice : Musée d'Orsay - Museum
Address : 62, rue de Lille
Opening hours : The museum is open on Tuesdays, Wednesdays, Fridays, Saturdays and Sundays from 9.30am to 6pm and on Thursdays from 9.30am to 9.45pm
Phone : +33 (0)1 40 49 48 14
Metro/Bus : Buses: 24, 63, 68, 69, 73, 83, 84, and 94- Métro: line 12, Solférino station - RER: line C, Musée d'Orsay station
The Orsay Museum in Paris - Le Musée d'Orsay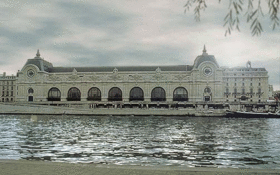 On the eve of the 1900 World's Fair, the French government planned to build a more central terminus station on the site of the ruined Palais d'Orsay. The new station needed to be perfectly integrated into its elegant surroundings. From 1900 to 1939,
Orsay station was the head of the southwestern French railroad network. The official decision to build the Musée d'Orsay was taken in 1977 and it has been opened to the public in December 1986 in order to show the artistic creation of the western world from 1848 to 1914. It is known worldwide for its famous impressionists collections.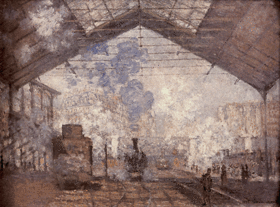 The museum's nationally-owned collections originate from three main institutions: the Musée du Louvre, the Musée du Jeu de Paume and the Musée National d'Art Moderne. Besides painting, sculpture, graphic arts and decorative arts, the museum has also established collections of furniture, architecture and photography.
The museum has been organized on three levels: on the ground floor, galleries are distributed on either side of the central nave, which is overlooked by the terraces of the intermediate level. These in turn opening up into additional exhibition galleries. The top floor is installed above the lobby, which covers the length of the quai, and continues into the highest elevations of the former hotel.
Your comments : quartier latin saint germain des pres