City visit of the Eiffel Tower and Invalides in Paris, France
The Eiffel Tower is the most-visited paid monument in the world...
The Eiffel Tower, in French "La Tour Eiffel", is an 1889 iron tower located on the Champ de Mars in the 7th arrondissement of Paris on the left Bank.
The Eiffel Tower, named after designer and engineer Gustave Eiffel, has become both a global icon of France and one of the most recognizable structures in the world.
Tour Eiffel and Invalides district is populated by the affluent classes. It's green and quiet.. May be a little too quiet.. But it's worth the visit to see La dame de fer, the iron lady!!
1 - Effeil Tower
Editor's choice : Eiffel Tower - Monument
Address : 5 avenue Anatole France
Opening hours : The Eiffel Tower is open every single day of the year // from 9 a.m. to midnight from 17 June to 28 August // from 9:30 a.m. to 11 p.m. during the rest of the year // At Easter weekend and during the Spring holidays : extended opening hours to midnight.
Phone : 08 92 70 12 39
Metro/Bus : Metro : Bir Hakeim - RER : C : Champ de Mars- Bus : 42, 69, 72, 82,87
The Eiffel Tower in Paris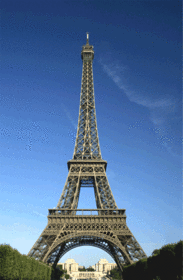 The Eiffel Tower is one of the most famous monuments in the world (324 metres, 10,100 tonnes).
Was built by Gustave Eiffel in 1889 for the World Fair, where it was the star attraction.
Information, historical and technical explanations on all three levels, Gustave Eiffel's offices on the third one.
Viewpoint indicator on the 2nd and 3rd floors.
You can go to few to restaurants on the Eiffel Tower, the most known is the " Le Jules Verne" Just great to dine there!!
2 - Invalides
Editor's choice : The Invalides - Monument
Address : Avenue de Tourville
Opening hours : Open evry day from 10am to 5pm
Phone : 33 (0)1 44 42 38 77
Metro/Bus : Metro : Latour-Maubourg, Invalides, ligne 8, Varenne, Saint François-Xavier, ligne 13 Invalides / RER C - RER : Invalides/ Bus n°28, 63, 69, 80, 82, 83, 87, 92, 93, Balabus
The Invalides (Hôtel National des Invalides)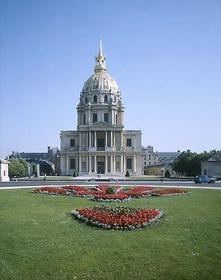 In 1670, King Louis XIV decided to build the "Hôtel Royal des Invalides" for wounded homeless soldiers of its different wars. It was built between 1671 and 1676 by Libéral Bruant, and then by Jules Hardouin-Mansart and Robert de Cotte.
One of the most prestigious monument in Paris.The most significant event in the history of Les Invalides is unquestionably the return of the body of Napoléon in 1840, from St. Helena. On 8 October 1840 - 19 years after the death of the Emperor - the coffin was exhumed.
Nowadays, it still maintains its initial purpose but the building also houses three museums (Army museum, "Plans-Reliefs" museum and Liberation Order museum), Napoleon 1st tomb designed en 1843 and two churches (the Dôme church and Saint-Louis-des-Invalides church).
3 - Quai Branly Museum
Address : 37, quai Branly
Opening hours : From Tuesday to sunday 9:30am to 6 pm - Late opening on Thursday, friday and saturday until 9.30 p.m. Closed on Monday
Phone : +33 (0)1 56 61 70 00
Metro/Bus : Metro : Iéna (line 9), Alma-Marceau (line 9), Pont de l'Alma (RER C), Bir Hakeim (line 6). Bus : line 42 Eiffel Tower stop; lines 63, 80, 92: Bosquet-Rapp stop; line 72 Musée d'art moderne – Palais de Tokyo stop
Quai Branly Museum: The arts of Africa, Oceania, Asia, and the Americas in the same museum in Paris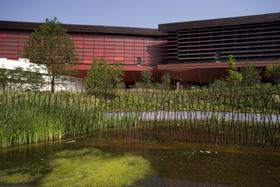 In the heart of Paris's museum land, neighbouring the Louvre and the Musée d'Orsay, a few minutes from the Grand and Petit Palais, the Palais de Tokyo and the Musée d'art moderne de la Ville de Paris, the Quai Branly Museum or Musée du Quai Branly in french has an exceptional location on the banks of the River Seine, at the foot of the Eiffel Tower.
The arts of Africa, Oceania, Asia, and the Americas now form part of the historical and artistic grand tour of the capital.
The Musée du quai Branly is an innovative cultural institution - museum, educational and research centre, and public living space all in one. Built on one of the last available sites in the heart of Paris, the architectural design of this original project is the work of Jean Nouvel.
A museum of non-Western arts
During the 20th century, non-Western arts started to be seen in museum collections. This development was largely thanks to cubist and fauvist artists, influenced by writers and critics from Apollinaire to Malraux, and in the wake of the work of such great anthropologists as Claude Lévi-Strauss. The idea of opening a museum in Paris in 2006, entirely devoted to the arts of Africa, Asia, Oceania and America gave shape to a worthy ambition - to enable a whole range of viewpoints, from the ethnologist's to the art historian's, to be brought to bear upon the artefacts in question, and bring official recognition to the place occupied by civilisations and cultural heritages of peoples often held apart from global culture today. Under the august patronage of UNESCO, the Musée du quai Branly has already welcomed over 3.5 million enthusiastic visitors to the Pavillon des Sessions, its 'branch' at the Musée du Louvre, since the year 2000.
Two very good restaurants next to the Quai Branly Museum are : Chez l'ami Jean and Les Fables de la Fontaine .
On the other Bank of the Seine River, and just in front of the Eiffel Tower you must also visit:
- Museum of Modern Art
Address : 11, avenue du Président Wilson
Opening hours : Open Tuesday to Sunday from 10am to 6pm. Late opening on Thursdays until 10pm (exhibitions only).
Phone : 01 53 67 40 00
Metro/Bus : Metro: Alma-Marceau Pont de l'Alma or Iéna RER C - Buses: 32, 42, 63, 72, 80, 92 - Velib: 2, avenue Marceau
Museum of Modern Art - City of Paris (Musée d'Art Moderne de la Ville de Paris)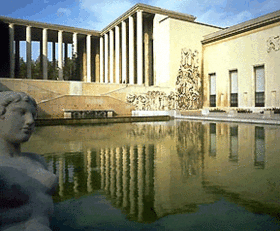 Built on the occasion of the International Exhibition of 1937, the Museum of Modern Art was officially opened in 1961.
To a large extent, it owes its specifically Parisian aspect to the generosity of its donors including Dr Girardin (1953) and Mathilde Amos (1955), Berthe Reysz (1972) Germaine Henry and Robert Thomas (1976-1988) and artists Robert Delaunay, Jean Fautrier and Christian Boltanski.
The museum has major collections of works by Georges Rouault, Robert and Sonia Delaunay, Raoul Dufy, Marcel Gromaire and several monumental paintings notably two of the three Henri Matisse triptychs of La Danse (1931-33) and La Fée Electricité (1937) by Raoul Dufy.
Temporary exhibitions form a major part of the museum's activity. Its "historical" program is alternated with monographic exhibitions devoted to great figures of the French or European scene and major European panoramic events combining the historical and contemporary.
The ARC (workshop for research and creativity) is a highly informative source on national and international current events, organising monographic exhibitions and theme-based events on the most up-to-date trends in contemporary art in France and abroad.
Current exhibition: From september 30, 2011 to January 29, 2012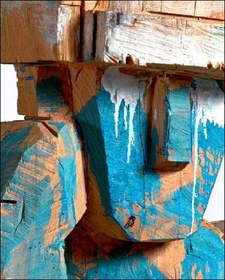 The Musée d'Art Moderne de la Ville de Paris is organising an exhibition of the sculptures of Georg Baselitz . This retrospective interpretation of one facet of the German artist – initially a painter and engraver – will include almost his entire sculptural output, covering a period of more than thirty years.
Few of these works have been shown in France. Now recognised as a part of his oeuvre in its own right, Baselitz's sculpture gradually became more and more monumental in scale.

Rates:
Full rate: 9 €
Concessions: 7 €
Half-price: 4.50 €
Admission free for under-14s
- Palais de Tokyo
Address : 13, avenue du Président-Wilson
Opening hours : Open: daily (except Monday), noon-midnight /// In 2011, during the renovation, the exhibitions continue and are open from noon to 9 pm.
Phone : 01 47 23 54 01
Metro/Bus : Métro: Alma-Marceau or Iéna
Palais de Tokyo - Paris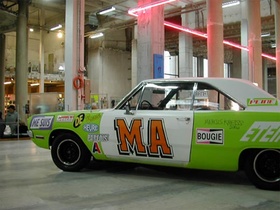 The Palais de Tokyo, an art deco building that dates from 1937, reopened in 2001 after new interior design by french architects Anne Lacaton & Jean-Philippe Vassal who selected rough and ready style (concrete floor, wall and roof).
Today the most creative and fun museum in Paris, the olny one to be open till midnight. The Palais de Tokyo, which is right next door to the Musée d'Art Moderne at the Trocadero, has opened as a showcase for contemporary art. The idea is to have no permanent collections, but to let experimental artists have somewhere in central Paris to express themselves, hence an opening full of "installation" and "interactive" art.
There is no permanent collection; instead, dynamic temporary exhibits spread over a large, open space that's reminiscent of a construction site, with a trailer for a ticket booth.
We appreciate the self- service restaurant (great when it's sunny you can have a meal outside the building), Tokyo Eat the inside restaurant whit great food, the Library – one of the best concerning modern art in Paris...
"Vernissage" every first Thursday of the month… do not miss..
Your comments : Eiffel Tower Invalides