Tourism & Handicap in Paris
Tourism & Handicap in Paris
The "Tourisme & Handicaps" association, in existence since 28 February 2001, aims to heighten the awareness of tourism professionals to the needs of people with disabilities within holiday and leisure venues, and to implement and manage the measures favouring policies that contribute to the provision of these facilities.
Paris metro offers poor accessibility to limited-mobility and disabled travelers. For the time being, only Metro line 14 is fully-equipped with elevators and ramps, with selected stations on other lines providing adequate accessibility. Roughly two-thirds of Paris metro stations have escalators.
RER trains are generally much better-equipped for passengers with limited mobility. All four RER lines are accessible to passengers with wheelchairs from most major stations.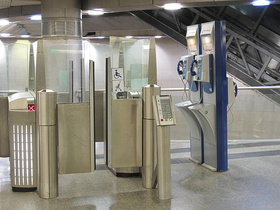 Travelers with wheelchairs should keep in mind that only manual wheelchairs can be used comfortably in the metro and RER at the current time, due to the gap between the platform and the train.
For passengers with sight disabilities, the Metro and RER are insufficiently accessible. Some stations are equipped with raised warning studs along the edge of train platforms. In addition, Metro line 14 and selected trains on line 3 have automatic vocal announcements indicating each stop.
Contact the "Tourisme & Handicaps" association on: tourisme.handicaps@club-internet.fr
The "Tourisme & Handicap" label has been created for use nationwide: its role being to provide a reliable, detailed and objective source of information, both concerning the accessibility of tourist sites and facilities, taking into account 4 categories of disability: hearing, visual, mental and physical, and also to develop a range of tourism products that are adapted and integrated into the general range of tourism services, in particular accommodation, restaurants, cultural sites (museums, monuments, etc.) and leisure facilities.
Your comments : Tourism Handicap