Duty free in Paris
Duty free in Paris
For non european residents, they have no duty to pay "tva" (VAT) for their purchase taking back home, except food and lodging. so they can benefit from duty free, or "detaxe".
Duty free shopping in Paris:
For a VAT refund, ask for a Tax free Shopping France invoice when you shop in any major store or "Tax free for tourists" boutique. The amount to be refunded is shown under the heading "montant de la détaxe". Detaxe or tax refund does not mean that all tax will be refunded. currently, tva rate of most goods is 19.6% in france, but tax refund rate is normally 12%.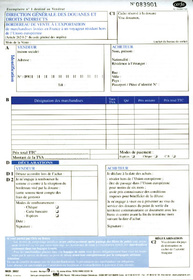 You should have your invoices stamped at airport customs on leaving the EU and return the validated pink copies within three months using the stamped addressed envelope given to you at the time you made your purchases.
In order to receive your tax refund, it's important to know that Paris train stations, unlike airports, do not have a customs office.
The process of tax refund can be time consuming, and many travelers just give up on the whole thing because it can seem intimidating. If you do not want to buy a great deal of goods, giving it up is not a big loss.
You might prefer to buy your souvenirs at the airport on the Free Tax area.
Your comments : Duty free