Alcohol, Smoking and drugs in Paris
Alcohol, smoking and drugs in Paris
Alcohol
Alcoholic drinks are on sale in any grocer's, wine shops or supermarkets in Paris. While we must not forget that alcohol over-indulgence is simply bad for our health, being drunk and disorderly on the public highway is against the law (in reality, as long as you don't disturb anyone and that you are on your feet, it may be tolerated).
At the wheel, the maximum permitted alcohol level is 0.5 g of alcohol per litre of blood, which is approximately the equivalent of 3 halves of beer, 2 glasses of wine or 3 glasses of champagne. But it goes without saying: don't drink and drive.
Any establishment selling alcohol is not authorized to serve children under 16 years of age. Drinks less than 15 degrees in strength (wine, beer) can be served to under-18s, but not spirits and liqueurs (whisky, vodka, etc.)
Restaurants that do not have the appropriate licence cannot serve alcoholic drinks except to accompany a meal.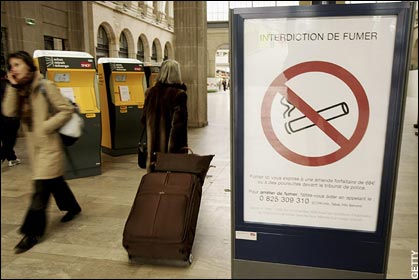 Smoking
Smoking is prohibited in public places (museums, monuments, cinemas…) or on public transport. Restaurants are divided into smoking and non-smoking areas
Drugs
The use, possession or sale of drugs are against the law in France. For assistance, information, or advice, you can call a free and anonymous service "Drogues Alcool Tabac" on 113, from any phone box, mobile or land line (in French only).
Your comments : Alcohol Smoking drugs