Opening times for the shops in Paris
Open times for the shops in Paris
Generally 09:00 - 19:00 (Mon to Sat)
Most shops are closed on Sundays, and several on Mondays! Several shops close in August.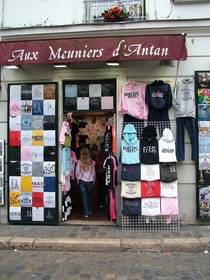 Some smaller shops may close over lunchtime between midday and 2pm, or all day on Monday. Sundays and public holidays are the usual closing days, although there are some exceptions... During the week, the department stores all have one late-night opening day, known as a "nocturne" until 9pm.
Supermarkets are open at different times depending on the neighbourhood, every day except Sunday, until 8, 9 or 10pm.
During the sales or in December just before the holidays, most stores, both large and small, may also open on Sundays. During the remainder of the year, take a stroll through the Marais or along the Champs-Elysées, where shopping is on the menu 365 days a year, sometimes even until midnight. In other districts more and more shops are opening on Sundays and holidays.
It's worth knowing that a good many smaller shops close for their annual holidays from mid-July to end-August.