Telephone cards in Paris
How to use the Telephone cards in Paris : the télécartes
You will find plenty of telephone booths in the street of Paris, in metro stations, railway stations and other public places. To use them, you will need a telephone card, obtainable from France Télécom agencies, the Post Office, the Paris Convention and Visitors Bureau, tobacconists and newspaper kiosks. The price varies from €8 to €15 depending on the number of units.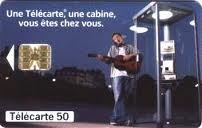 Public phone booths in Paris no longer take coins, but you can also use your credit card to make phone calls. You will be given credit for calls up to €15. You will only be charged for the amount of your call indicated on the screen. When the amount reaches €15, the communication will come to an end.
Two kinds of telephone cards are available in Paris: smart cards, which simply need to be inserted, and code cards which do not need to be inserted in the telephone, just follow the instructions on the back of the card.
If you wish to call abroad, international code cards offer competitive prices. These cards can also be used for calls within France.
Your comments : Telephone cards