Flying to Paris
Flying to Paris can prove expensive, but if you plan well ahead you can snag a good deal. As a general rule, reserve your tickets at least 3 months ahead of your travel date, and consider flying to Paris outside of the peak period (mid-May to September).
In addition, connecting to Paris from London is often a cheaper way to get to the city of light. When flying from within Europe, choosing a low-cost carrier is smart as long as you're willing to forego frills.
Charles de Gaulle and Orly are the 2 main airports in Paris
The following airlines provide regular service from major U.S. and Canadian cities to Paris: Air France,American Airlines, Continental Airlines, Air Canada, Delta Airlines, British Airways, Lufthansa, US Airways.
From within continental Europe and the U.K., most of the companies listed above offer service to Paris from other major European cities. In addition, the following low-cost companies fly into Paris daily: Easyjet and Ryanair
Airports in Paris
Paris has two major international airports: Aéroport d'Orly, 14km (8 2/3 miles) south of the city, and Aéroport Roissy-Charles de Gaulle, 22km[DR1] (14 miles) northeast.
A shuttle (16€) makes the 50- to 75-minute journey between the two airports about every 30 minutes.
Roissy-Charles de Gaulle Airport is the second busiest airport in Europe after London Heathrow, with some 200,000 passengers moving through daily.
Located about 15 miles northeast of central Paris, Charles de Gaulle airport offers quick and reliable ground transportation into Paris.
Charles de Gaulle (tel. 01-48-62-12-12 or 39-50 ).
Charles de Gaulle Airport has three terminals or "aerogares":
Terminal 1: most non-Air France international flights, including United Airlines, Us Airways, Lufthansa, and Virgin Atlantic.
Terminal 2 is the largest and is broken into 6 smaller terminals (A-F). Most Air France flights, as well as American Airlines, British Airways, Delta Air, and Northwest Airlines, fly into Terminal 2.
Terminal T-3 is reserved for budget and charter flights, including Ryanair and Easyjet.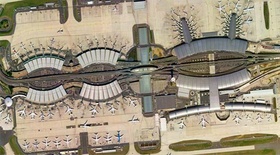 The free shuttle buses also transports you to the Roissy rail station, from which fast RER (Réseau Express Régional) trains leave every 10 minutes between 5am and midnight for Métro stations including Gare du Nord, Châtelet, Luxembourg, Port-Royal, and Denfert-Rochereau. A typical fare from Roissy to any point in central Paris is 9.05€ per adult, (4.50€) for children 4 to 10. Travel time from the airport to central Paris is around 35 to 40 minutes.
The Roissybus (tel. 01-58-76-16-16), operated by the RATP, departs from the airport daily from 6am to 11:45pm and costs 8.60€ for the 45- to 50-minute ride. Departures are about every 15 minutes, and the bus leaves you near the corner of rue Scribe and place de l'Opéra in the heart of Paris.
A taxi from Roissy into the city will cost about 30€ to 60€; from 8pm to 7am the fare is 40% higher. Long, orderly lines for taxis form outside each of the airport's terminals.
Orly Airport (tel. 01-49-75-52-52 or 39-50 from France only) is smaller and several degrees less frenetic than Charles de Gaulle Airport. Hosting around 30 airlines, Orly handles mostly domestic and European flights.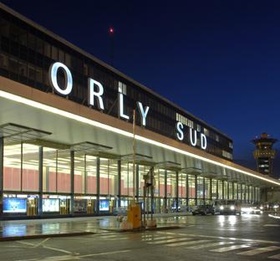 Located just 10 miles south of Paris, the airport has two terminals:
Orly Ouest handles mostly domestic flights, including Air France.
Orly Sud handles international and charter flights.
A free shuttle bus connects them in 3 minutes.
Both Paris airports offer above-average services and amenities, including world-class duty-free and luxury shopping, free shuttle services between terminals, a large selection of restaurants, lounges, and play areas for children. In addition, some terminals, including Terminal 2 at Charles de Gaulle, are free wireless internet hotspots.
Visit the Paris Airports Website
Your comments : Flying to Paris