Clothes and shoes size in Paris
Clothes and shoes size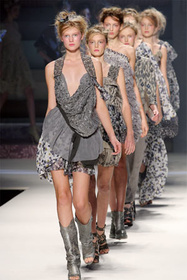 Shopping in large French department stores like the Galeries Lafayette in Paris can be a heady experience.
What woman wouldn't want to spend at least one afternoon trying on the latest fashions? To make the experience even more enjoyable (and less mysterious!) we offer the following conversion charts for women's sizes in the USA, the UK and France.
To make it less confusing and enable you to ask for the correct size, here are the equivalents.
Clothes
France/ USA /GB/ Italy
34 /extra small (XS)/ 6 /32
36/ small (S)/ 8 /34
38/ medium (M)/ 10/ 36
40/ large (L)/ 12/ 38
42/ extra large (XL)/ 14/ 40
44 /extra extra large (XXL)/ 16/ 42
Shoes
M: men
L: ladies
France/ USA /GB
36/ L 6 / 3.5
37/ L 6.5/ 4
38/ L 7.5/ 5
39/ M 7 F 8.5/ 6
40/ M 7.5F 9 /6.5
41/ M 8.5F 10/ 7.5
42/ M 9/F 10.5 /8
43/ M 10 /9
44/ M 10.5 /9.5
Your comments : Clothes shoes size