Electricity in Paris
Electricity in Paris
Don't leave home without your adapter plugs for France's 220 volt outlets.
Paris electricity: 220 volts with 50 Hz
France's electricity is 220 volts with 50 Hz, so you might need to bring a transformer and adapter along.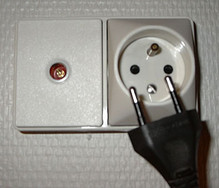 Electricity sockets are the two-pin kind. Before you leave, check whether your electric shavers, travel irons, hair dryers, or other personal appliances will operate at the higher voltage. If not, you must buy new appliances or bring a voltage converter, also called a transformer. Transformers and adapters are widely available in all of Paris and even hotels could perhaps provide them. If you come from the United States or Canada, for example, it is 110 volts with 60 Hz.
Voltage and sockets vary from country to country and so an adapter and also a transformer will be necessary… Make sure you bring these with you, or else you might risk braking your favourite electric razor or hairdryer, not to mention blowing out the electricity in the whole hotel! If you've forgotten to bring these important accessories, you'll be able to find them in electrical goods or hypermarkets. Most major hotels can also provide them.
Your comments : Electricity