Traveling with pets in Paris
Traveling with pets in Paris
One should consider that while the French claim to love dogs, they do not love them in their museums (understandable) or in their parks (...not so understandable).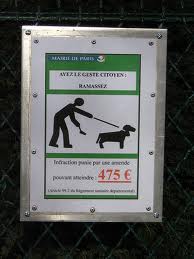 In museums and monuments, only guide dogs for the disabled are accepted.
There are some places where your pet may not be welcome, or only under certain conditions. In the case of guide dogs for the disabled, however, they are authorized by law in all establishments and modes of transport.
Cafes and hotels do not seem to have any problem allowing dogs inside, although some hotels may charge a fee per dog per night!
On the bright side, you can go on the wonderful red doubledecker buses that cruise all around the city, stopping at every significant sight. For 22 Euros, you can get on and off as much as you like for two days and bring your dogs along too.
Dog owners are required to dispose of any deposits left by their pets, otherwise they risk fines of up to €475.
Air France is a good option if travelling with dogs. They will allow dogs under 4kg (including container) in the cabin; larger dogs are put in the hold.
Your comments : Traveling with pets