Public toilets in Paris
Public toilets in Paris
In Paris you will find 12 "superloos", open from 6am to 10pm, and 24 lavatories, open from 10am to noon and from 1pm to 6:15pm. These public toilets are free and clean themselves automatically after each visitor.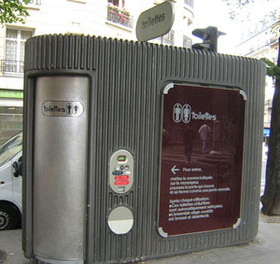 Since 2006 Public Toilets are free in Paris. Sanisette (public toilets / closets like) are pretty clean but decade old. Since begin of this year, brand new toilets are replacing them : brighter, spacer , greener. The only probilem with Sanisettes is that sometime they are OutOfOrder and waiting for somebody to "repair" them.
While cafés in Paris do not always welcome us using their toilet facilities, out of politeness you should buy a water or a coffee at a cafe and then ask the bartender for the token for the toilets. Department stores offer free facilities.
Shopping centres and arcades also usually have toilets, some free, some not.
Toilets in railway stations and department stores are commonly staffed by attendants who will expect a bit of spare change, but they are free at the airports.
You will also find supervised toilets in most of the large parks and gardens in Paris.
Your comments : Public toilets