The Metro network in Paris
Metro in Paris
To see the map of the Metro network of Paris (in PDF) or visit the Interactif Paris Metro Map
Paris boasts one of the world's safest and most efficient public transportation systems. Trains usually arrive on time; buses are well-appointed and clean, and commuter express ("RER") trains service the city's most important stops in record time.
The Paris metro has around 300 stations, their entrances marked by a big yellow "M", and 16 lines, 1 through 14 plus two short secondary lines (3bis and 7bis). Each line has a colour, which you'll find on signs in the stations and on all the RATP maps.

The Metro runs from 05:30 till 00:40 (5:30am - 12:40am) Sunday thru Thursday and 05:30 - 02:15 on Fridays, Saturdays and on days before a holiday. Frequency between most trains range from 2 minutes during rush hour up to 8-10 minutes during off hours, holidays, and sundays.
Connections between lines make your journey easy to plan. For an idea of your journey time, allow an average of 2 minutes per station and add 5 minutes for each connection.
Many Metro stations serve multiple lines through several different train platforms within a single station. To find your way to the correct platform in the correct direction requires that you to keep a mindful eye on signs posted throughout the pedestrian tunnels.
Paris airports are accessible via the RER train system, rather than the Paris Metro.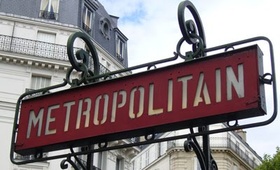 At each subterranean intersection you will see Metro line numbers and possibly station names which are used to denote direction of travel. Direction of travel is always denoted by the terminus station,the last station or stop on the line, rather than magnetic pole directions such as north, south, east, west. To understand whether the line is going in the direction you wish to travel, you should refer a Metro map, which are posted near station entrances and on all train platforms. Maps of the public transport network, in all shapes and sizes, are available free of charge at the ticket offices.
After having arrived at your desired station you can make your way out of the station by following the blue "Sortie" signs. These signs will often be mixed with directional signs for various Metro lines shared by a station.
Your lilac-coloured ticket remains valid for 2 hours until you leave the metro by going though the exit barriers. If you then take a bus, you need to use another ticket. If you happen to have kept some old green or yellow tickets from an earlier trip, you can still use them.