Metro, RER and Bus tickets prices in Paris
Metro, RER and Bus tickets prices in Paris
There are a wide variety of tickets available including single ride tickets, books of 10 or 20, single day passes, multi-day passes, Monday to Sunday week passes, monthly passes and year passes.
Metro, RER, Buses
The single ticket price is 1,70€. Books of ten, called a "carnet", are sold at a discount for 12,70€. Children from ages 4 to 9 years old can use reduced fare tickets, which are available only in books of 10 or 20, for 5,70€ per book of ten. Children 3 and under ride for free.
Keep hold of your ticket until you have completed your journey, as you may be asked to show it if tickets are being inspected. If you cannot produce proof of payment for the ticket inspectors, you may risk paying a fine. This ticket, valid for zones 1 and 2, allows you to travel anywhere in Paris, and even beyond, since it will take you to the end of each metro line, even if it is located in zone 3 (as for example La Défense on line 1).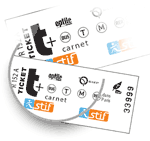 You can also choose a weekly or monthly "Carte Orange" pass, and other kinds of travel pass valid for unlimited travel during 1 or more days. These can be purchased from the ticket offices or machine in the stations, their prices vary depending on the travel zones covered (see "Travel passes and reductions"). You will need a passport-sized photo for these passes, obtainable from the photo booths in some metro stations (make sure you have the correct change).
In the RER, as long as you remain within the city limits, tickets and prices are identical to the metro (RER stations also have their own ticket offices and machines). If you are travelling beyond the city limits, you need to ensure that you are in possession of a ticket or a pass which covers your whole journey up to your destination in the Ile-de-France region. If not, you will not be able to go through the automatic barriers on arrival and you may be liable to a fine. The RER ticket also covers your journey and any connections within Paris (zones 1 and 2), on your outward and return journeys.
On the buses in Paris, you use the same tickets as in the metro, with no limit of distance (including suburbs), except on the Balabus, Noctilien and routes 221, 297, 299, 350 and 351. The bus driver can sell single tickets, be sure to have the correct change.
Prices shown are subject to change.
You can find more detailed info on tickets and passes here
Your comments : Metro RER Bus tickets prices