Paris by Boat: Batobus
Paris by Boat: visit by Batobus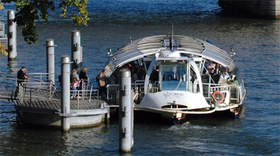 The Batobus takes you to the heart of Paris, to reach the various quarters of the capital. With 8 stops on the route, Batobus shows you a different view of Paris and is an original way of getting about in Paris.
The fleet consists of 5 trimarans. It is a unique means of transport on the Seine— ideal for Parisians who wish to avoid the metro and for tourists who enjoy the combination of a trip and a visit to the different quarters of Paris.
We have eight stops along a circular route that covers both the left and right banks of the Seine:
Left Bank: Tour Eiffel, Musée d'Orsay, Saint-Germain-des-Pres, Nôtre-Dame, Jardin des Plantes.
Right Bank: Hôtel de Ville, Louvre, Champs-Elysées.
From these stops, you can easily reach the leading sights in central Paris. You can hop on and off the boats as often as you like.
Batobus Fares:
Designed especially for visitors, the Batobus passes are for as many trips as you like during a specific period of time.
No need to wait to buy a ticket.
1 - day Pass: €11
(€5 for children under 16, €7 Privilege rate ticket*)
2 - day Pass**: €13
(€6 for children under 16, €8 Privilege rate ticket*)
5 - day Pass**: €16
(€7 for children under 16, €10 Privilege rate ticket*)
Annual Pass: €50
(€30 for children under 16)
Where to buy passes: At any Batobus stop, at the Paris Tourist Office, and at several other locations that are listed on the Batobus Web site.
When the boats run: Every 15 to 30 minutes year-round, except for a one-month winter break in January. (Boats run during the daytime only in the off-season but operate until 9:30 p.m. from late May until the end of August.)
Your comments : Paris by Boat Batobus