Les Fables de la Fontaine - Restaurant in Paris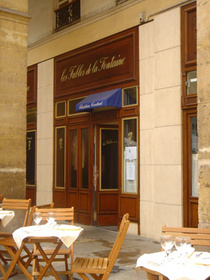 Next to the Eiffel Tower, you should stop by this great fish restaurant in Paris: Les Fables de la Fontaine. The Chef Christian Constant is known for two others places next to this one: the Violon d'Ingres (135 on the same sidewalk) and the Café Constant (139).
Les Fables de la Fontaine is a tiny little room with barely ten small tables to fill the place, by summer time you can ask for a table outside. The room décor is minimalist and keep up with the seafood theme of the food, very pleasant. The usually serve a sort of very funny amuse to start. We had Oyster Tartare (19€), which, in fact, was oyster and salmon tartare, Coquilles St.Jacques Rôties au beurre demi-sel (24€) just perfectly cooked, Dorade with vegetables (24€) great!! This Chef is very innovative, and we like very much its work. If you like fish do not miss this place. Desserts are fun and tasty and the wine not expensive. Better book. Go there!!
Your comments : Les fables de la Fontaine