Haute Cuisine restaurants in Paris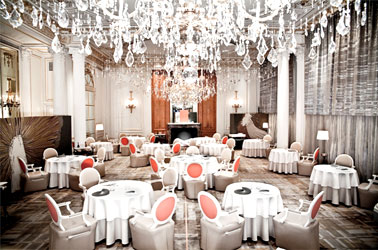 Paris and gastronomy have always been synonymous.
Gourmet fans come from all over the world to experience the Parisian haute cuisine restaurants.
You'll discover that meals in those temples are not only well served meals but much much more… Haute cuisine restaurants in Paris are a once in a lifetime experience that is worth its price...do not hesitate!!!
Foodie, gourmet, gourmand, epicure.. This selection is for you!!
A table!!
Remember that:
In Paris lunch is served from 11:30am to 2pm and dinner from 7:30pm to 11pm.
Restaurants are often closed on Sunday and Monday.
For Haute Cuisine restaurants: always book long time before your stay in Paris!
Address : 9, place de la Madeleine
Opening hours : De 12h00 à 14h30 et de 19h30 à 23h00
Phone : 01 42 65 22 90
EMBLÉMATIQUE – Pilier de la haute gastronomie française, cette maison est pleine de souvenirs. Ouvert en 1732 en « Taverne Anglaise », transformé en 1925 en « Lucas Carton » aux tons Art Déco, l'illustre restaurant renaît en 2005, prenant le nom du grand Alain Senderens. Décomplexé, le restaurant mêle le moderne à l'ancien : les boiseries Majorelles cohabitent avec des tables et miroirs rétro-éclairés.
CHERCHEURS D'HARMONIES – Le chef exécutif Jérôme Banctel propose une cuisine de haut-vol, technique et créative, aux tendances exotiques. Fasciné par le vin, Monsieur Senderens le place au centre de leurs créations. Chaque plat se voit sublimé par les arômes d'un grand cru, devenant ainsi son alter ego. Unions parfaites !
EN TOUTE INTIMITÉ – La vaste salle du bas vous promet douceur et romantisme avec ses jeux de lumière, motifs 1900 et panneaux de verre. Le lieu possède également des salons particuliers, habillés de lustres et cadres fantomatiques, pour vos moments confidentiels. Laissez-vous aller, vos secrets seront bien gardés !
Editor's choice : Le Meurice - Restaurant
Address : 228, rue de Rivoli
Opening hours : Lucnh 12h30 - 14h00 Dîner 19h30 - 22h00
Phone : +33 1 44 58 10 10
Metro/Bus : Pyramides
Le Meurice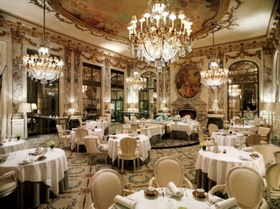 Amazing French-style gourmet restaurant set in the well-known Le Meurice hotel. Expensive but considered one of the best in Paris.
If you are looking to have a true 5-star gastronomic experience in Paris, Le Meurice is definitely worth the splurge.
Enjoy the delicacies of savor creative cooking to which 3-star world-renowned head Chef Yannick Alléno, maître d'hôtel, Sébastian Rival, and their entire staff make sure that everything is top notch. One of the most beautiful dining rooms in Paris. The chef's repertoire combines the finest traditional ingredients of French cuisine and the creativity of Nouvelle Cuisine.
The extensive wine list offers excellent and rare vintages to choose from.
The china was specially created by Limoges for Le Meurice, matching the mosaic patterns on the floor.
Le Meurice is definitely a gourmet and a very classy restaurant in Paris, near the Louvre, that seems to transport you back in time about 300 years to an age of elegance, style, grace and beauty.
Editor's choice : L'Espadon - Restaurant
Address : 15, Place Vendôme
Opening hours : Lunch from 12h30 to 2h00 and dinner from 7h30 à 10h00
Phone : 01 43 16 30 80
Metro/Bus : Opéra (M3) (M7) (M8)
L'Espadon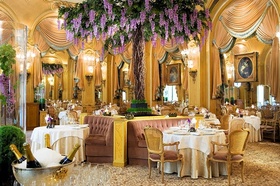 Probably the most famous hotel on the planet, the Ritz has the beautiful L'Espadon restaurant.
L'Espadon has been one of the temples of the Parisian gastronomy since its opening in 1898.
The plush dining room of the Ritz Paris, dotted with mirrors, gilts, velvet and a trompe l'œil painting, suits the subtle dishes of Michel Roth, Bocuse d'Or and Meilleur Ouvrier de France, who has been at the helm for more than two decades. Michel Roth creates his innovative cuisine with head sommelier Jean Claude Ruet to marry food and wine.
The service is distinguished without ostentation and the wine cellar is filled with with a choice of 1000 stunning wines from some of the greatest grand crus.
The Ritz's L'Espadon is a temple to luxury,not cheap, but an extremely good buy.
Choose chefs tasting menu with wine paring for a fine french traditional food expereince in Paris at €100 lunch menu per person or €70 without wine.
Editor's choice : Le Jules Verne - Restaurant
Address : Parc du Champ de Mars
Opening hours : 12:15 - 1:45 and 7:15 - 9:30
Phone : 01 45 55 61 44
Metro/Bus : Bir-Hakeim / Iéna
Le Jules Verne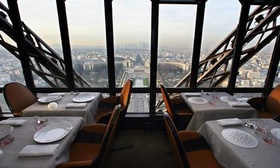 A special elevator lifts you to this unique restaurant, located on the 2nd floor of the Eiffel Tower! Breathtaking views in a room decorated by Patrick Jouin.
The fine food is gourmet style and traditional French cuisine, yet it surely is not easy for any chef to cook such fabulous contemporary French food when being so high up and unable to cook with gas within the Eiffel Tower.
A unique restaurant for its location, supposed to be good ( 1 Michelin star ), but not as good as expected by most reviewers...
There are some set menus, for example the three course lunch menu is around 75€, a five course dinner menu is around 155€ and the seven course dinner menu is around 190€.
Remember that you must have your reservation with you in order to skip the queues for the Eiffel Tower itself and take the private elevator to the Jules Verne restaurant.
Address : 5, rue de Montalembert
Opening hours : Lunch from 11:30 a.m. to 12:30 p.m. and 2 :00 p.m. to 3:15 p.m. Dinner only for the 6:30 p.m. service
Phone : 01 42 22 56 56
Metro/Bus : Station Rue du Bac (190 m), Boulevard Raspail - Station Solférino (369 m), Place Jacques Bainville
L'Atelier de Joël Robuchon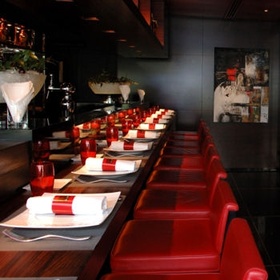 A sublimely simple concept designed by Pierre-Yves Rochon; an open kitchen on a counter surrounded by 40 seats allowing customers to observe the preparation of the dishes and select their menu according to their appetite, since 'La Carte' proposes small portions of typical dishes. This is how L'Atelier de Joël Robuchon was born in Paris. Since the 2003 opening, thanks to his faithful companions, the chefs Eric Lecerf and Philippe Braun, L'Atelier de Joël Robuchon offers you tastes throughout the seasons, an exceptional 'cuisine' in a friendly and refined atmosphere all in black and red. L'Atelier de Joël Robuchon in Paris has become a landmark in this gastronomy capital and a well-recognized address by connaisseurs around the world.
You can not choose the menu because it is already defined and the truth is that it's a very good experience. The atmosphere is very nice and very French treatment. Maybe we found it a little expensive but in brief as all the dishes are very good it is worth. Let yourself recommend the wine by them....probably the best they have.
Signature Dishes
* Pommes Purée (mashed potatoes)
* La Caille au Foie Gras (Free-range quail stuffed with foie gras)
* Le Rumsteack en Tartare et ses Frites à L'ancienne (Steak Tartar)
Editor's choice : Le Versance - Restaurant ( thefork.com )
Address : 16, rue Feydeau
Opening hours : 12h00-14h00/20h00-22h00
A deux pas de la place de la Bourse, ce restaurant romantique, à la fois intimiste et élégant, vous accueillera dans un décor pittoresque créé par ses poutres apparentes et ses vitraux d'époque.
Le chef, Samuel Cavagnis, vous propose une cuisine traditionnelle et gastronomique à laquelle il apporte sa touche personnelle.
Un endroit raffiné au charme incontestable, à ne pas manquer…
Editor's choice : Drouant - Restaurant ( thefork.com )
Address : 16-19, Rue Gaillon
Opening hours : 12-1.30pm, 7pm-10.30pm
Located in the Opéra neighbourhood, Le Drouant is a hot destination eatery – open 7 days a week – with five private rooms and a pleasant mezzanine. It is a real institution! Every year the famous Prix Goncourt takes place in one of the private rooms.
You will appreciate its Brasserie ambiance and Art-Deco decoration married with a contemporary design. Black furniture and golden walls create a genuine experience, as well as outdoor seating.
Plus, inventive menus seduce a varied crowd and satisfy varied appetites. Let's relish the Chef's hors d'oeuvre served by theme, in 4 small portions – Tomato Gaspacho, Peking Prawns, Marbled Ham and Stuffed Fajitas.
Other products to taste: Veal Foie gras from Corrèze and roasted Cod.
Your comments : Haute Cuisine restaurants in Paris