Bistronomy restaurants in Paris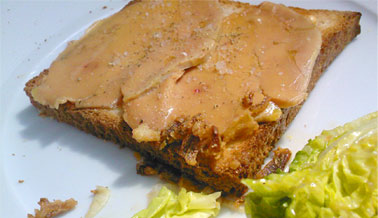 In the spectrum of Paris's restaurants, the new term of Bistronomy appeared in the 90'.
Bistronomy is the contraction of two terms: bistro and gastronomy. The concept combines in itself informal etiquete in a basic decor bistro with quality cuisine, a touch of gastronomical audacity at relatively low price!
Historically, it all started when a few young chefs, fresh from their apprenticeship with haute cuisine masters, decided to exercise their talents in the casual atmosphere of a bistro, rather than face the expense, pressure and fierce competition of fighting for a Michelin star.
Bistronomy became a real trend, even though we still simply call these restaurants bistros. The concept is today understood as a simpler, more relaxed way to have a gourmet food lunch or dinner.
A table!!
Remember that:
In Paris lunch is served from 11:30am to 2pm and dinner from 7:30pm to 11pm.
Restaurants are often closed on Sunday and Monday.
Tipping: all bills include a service charge, but an additional tip of a few euros (for the whole table) is polite unless you're unhappy with the service.
Editor's choice : Pirouette - Restaurant
Address : 5 rue Mondétour
Opening hours : Closed on sunday / Monday to saturday from 12am to 3pm and from 8pm to 11pm
Phone : 01 40 26 47 81
Metro/Bus : Etienne Marcel, Les Halles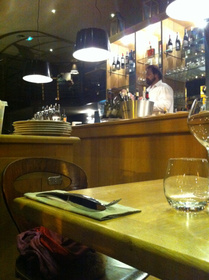 A new table in les Halles: Pirouette of the name of the old street where it is located. But also because its chef - who worked at Daniel Boulud in NY, Taillevent and the Meurice in Paris - likes to twist lightly the traditional recipes to make them his way..
Very bright decoration, made of wood and glass. A menu for lunch at 15€ and a menu Pirouette at 38€.
Get ready for: a lark without head (barded with bacon of Colonnata), a smoked eel with crystallized potatos, a piece of lamb with sage, crusty squids or the already famous "pigeon" perfectly cooked accompanied by turnip and a slice of bread with a liver emulsion on top, a bit strong but tasteful..
For each dish a small pirouette. Sublime.
Editor's choice : Chez l'Ami Jean - Restaurant
Address : 27 rue Malar
Opening hours : Tues-Sat: noon-2pm and 7pm-midnight
Phone : 01 47 05 86 89
Metro/Bus : Invalides, Tour Maubourg, Alma, Ecole Militaire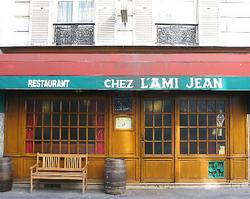 Chez L'Ami Jean was opened by a Basque nationalist in 1931, and fans claim its Basque cuisine and setting are the most authentic on the Left Bank of Paris. Today chef Stéphane Jégo is in charge of the place. It is certainly the best bistrot at this time in Paris.
Stéphane Jégo is waiting for its first étoile from the Guide Michelin. While then you should go there fast..
It's just great for the price with for example a menu at 29 euros.
A la carte you can choose among dishes like one the greatest Bayonne ham we ever had " Jambon de truie Arrossagaray" ; herb-laden Béarn-influenced vegetable soups; Côtes de veau ( slices of veal with fresh herbs, onions, red Espelette peppers) for 2 at 52 €, Confit of duck with small potatoes (23€); Pigeon fermier 30€, Ris de veau de lait de Corréze (32€)...
In springtime, look for a specialty rarely available elsewhere: saumon de l'Adour (Adour salmon) with béarnaise sauce.
Great sweets as well!!
Enjoy well selected wines like Chablis Guy Robert (24 €), Tempranillo (24 €), Cahors Clos Siguier (21 €) and a great Côte Rôtie...
Editor's choice : Le Chemise - Restaurant
Address : 42 rue de Malte
Opening hours : From 12am to 2pm and from 7pm to 11pm / Closed Sundays, Saturday lunch and Monday lunch.
Phone : 01 49 29 98 77
Metro/Bus : République or Oberkampf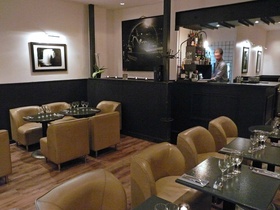 Le Chemise
In the bistronomy trend.
An ex-Tour d'Argent is at the stoves of this chic and modern bistro.
After meeting at hospitality school, Fabien Demarty and Cédric Lacaze opened their first bistro in December 2011, near the République Square in Paris. The two thirty-somethings are perfectly cast: Fabien at front of house gives a sincere, good humored welcome to clients, while in the kitchen the quieter Cedric concentrates on preparing his appetizers. Formerly at the Tour d'Argent, he has developed a culinary style that is both traditional and inventive.
The menu changes every month and currently features a creamy chestnut soup drizzled with truffle oil, a homemade duck foie gras and a duck confit flaky pastry. But the real winner is the plate of melting prawn dumplings delicately perfumed with lemongrass.
The main dishes are just as delicious: 7-hour thyme-infused lamb shanks, Erquy scallops with Noilly sauce, Chateaubriand beef tenderloin with green peppercorns, or salmon gravlax panned on one side, the flesh turning lolly-pink.
The wine list is well thought out and proposes very reasonable vintages such as the Morgon Domaine Bouland 2010 at 25€ or the Pinot Noir 'Signature' at 21€.
For a sweet and light finish to the meal, there is brioche done French-toast style and a pear pound cake that confirm the chef's talents as a pastry cook.
The two young men have succeeded the feat of offering bistronomy quality at a reasonable price, and the lunch menu at 15€ is a steal. Intrigued by the name of the establishment? Ask Fabien, who will be pleased to recount the numerous versions of the tale….
Review by Terroirs de Chefs
Address : 129 avenue Parmentier
Opening hours : From 12 to 3pm and from 19:30 to 23pm. Closed saturday for lunch, Sunday and Monday.
Phone : 01 43 57 45 95
Metro/Bus : Goncourt, Parmentier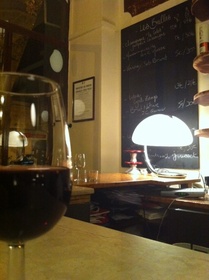 In a very cool atmosphere, thanks to young and funny waiters, we had that night at Le Chateaubriand a great prix-fixe dinner. (Finally really cool not to have to choose your menu)..
This Bistro "nouvelle cuisine" that we classified in "Bistronomy" is directed by young Chef Inaki Aizpitarte. The guy starts to be really known as he just being ranked N°9 best restaurant in the world by S.Pellegrino World's Best Restaurant Awards 2011 and N°1 of the French restaurant..
A bit overrated for us: yes it's really creative, nice and surprising but everything was not totally working and natural wines were not our choice.
Nevertheless we were expecting with pleasure the next surprise to come on our table and loved particularly that night: amuses bouche like the one with foie gras. Coquille Saint-Jacques with verdure was a delight. Cod fish with mushrooms a perfection of savors and colors.. Certainly a great chef to come.
Last thought: at 55€/ menu you should not hesitate too much.. Go go go!
A bit far from city center.. Take a cab..
Hard to book but easy to find a table – without reservation- for second service around 22:30 pm..
Eclectic clientele..
Prix-fixe night menu at 55€ and 115€ with wines in accordance.
Trusted reviews:
The New York Times: At dinner the only choice is a prix-fixe and it's a winner, perhaps featuring such dishes as eel flavored with orange juice and olive oil, warm cockles and mussels, teriyaki salmon, and mint lamb tagine. Some of the dishes are very daring indeed, including pork belly flavored with licorice...
Foodtourist.com: The wine list is an homage to the great new winemakers of France. While it only extends over a couple of pages it ranges from Overnoy's Arbois Pupillin to Dard and Ribo's St Joseph to Herve Villemade's stunning Les Ardilles and to the wines of Agnes and Rene Mosse who are idolised in the Loire and beyond...
Food Snob: Simplicity and deconstruction appear to dominate Aizpitarte's style. The chef has a reputation for taking recipes apart and reforming them, nominally(...)
Creativity is key to this chef. He is eager to 'amuse' and excite the diner 'with very distinct flavours colliding and eventually marrying'. To achieve this, he is not afraid to stray from the hip locavore label and to include ingredients from around the world..
Address : 5, Carrefour de l'Odéon
Opening hours : From 12 am to 3 pm and from 8pm to 1am
Phone : +33 (0)1 44 27 07 97
Metro/Bus : Odéon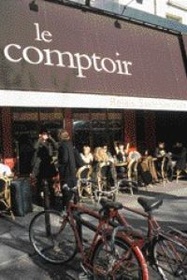 To not miss in the heart of Left Bank Paris, next to the Carrefour de l'Odéon, Le Comptoir du Relais. This restaurant is a brasserie by day and a gastro restaurant by night. The owner Yves Camdeborde, who was once part of Christian Constant's team at the Crillon, was one of the first chefs to open a gastro bistro: remember La Régalade!!
That is useless to say that he handles perfectly this concept. So by night time there is one menu that changes daily. There are no choices and we like that very much, so pleasant not to have to choose between equally delicious dishes. Camdeborde's style is delectable and enthusiastic, with a little twist to keep things interesting. This time for 45€ we had Cremeux of celery, foie gras and truffles then marinated Coquilles St Jacques with cream of caviar then Fricasées of calf rice then cheese and a perfect dessert. This "gastronomique menu" was just great..
Service staff is perfect, chart of wines interesting and decoration typically French bistro with Art Deco details and a little terrace very pleasant.
Better book always crowed..
Le Comptoir du Relais is part of a 4 star hotel called the Relais Saint Germain, a fine place as well!!
Editor's choice : Itineraires - Restaurant
Address : 5, Rue de Pontoise
Opening hours : Noon to 2pm and 7:30pm to 10:30 (11pm on Friday and Saturday). Closed on Sunday and Monday.
Phone : 01 46 33 60 11
Metro/Bus : Maubert - Mutualité
Itinéraires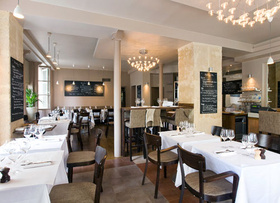 Itinéraires is a relatively new "gastro-bistro" in the fifth arrondissement.
Chef Sylvain Sendra, after closing his little bistro Le Temps au Temps near the Bastille, moved to this larger space near Notre Dame. We can find a long table d'hôtes, a bar for solo meals or quick bites, and a reasonably priced, market menu at 36 euros boasting beautiful flavors, impeccable service and elegant surroundings, it's really honest. Especially for a restaurant of the 5th, close to Boulevard Saint Germain.
The menu is written on a blackboard, and changes daily.
In short, a good place that is equally suited for a dinner with friends or a romantic evening without extravagance.
Itinéraires is on the itineraries of many Parisians and visitors. Best to book ahead.
Editor's choice : Chez Michel - Restaurant
Address : 10, rue de Belzunce
Opening hours : Mon-Fri 11:45-3pm and 6:45pm-midnight
Phone : 01 44 53 06 20
Metro/Bus : Gare du Nord / Poissonnière
Chez Michel de Thierry Breton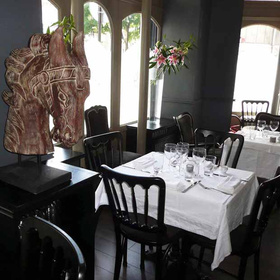 Authentic, rustic and tasty, Chez Michel is probably one of the best restaurants in Paris in terms of value for money.
Thierry Breton is one of those trained with Michelin-starred chefs who did not want to invest in a expensive institution to win Michelin star by assuming big expenses, and worries of managing the ensuing risks. Instead he decided to show and share his love for gastronomy is simply to say in a setting of Parisian bistro and doing what they like, a Grand Chief market cuisine, authentic and inspired.
Chez Michel serves authentic Brittany dishes. From fish to game, Chez Michel is one of the few places that still serves authentic traditional, home made family cooking, which is exactly the feeling you get when you walk through the door.
The atmosphere is warm and welcoming, with big wooden tables and old-style table towels.
Chez Michel has a prix fixe menu at 50 Euros but if you really want to test the mettle of this brilliant chef Thierry Breton, go for the menu "supplement" on the blackboard that is passed around.
Editor's choice : La Bigarrade - Restaurant
Address : 106, rue Nollet
Opening hours : From monday night to friday night - Dinner nightly until 10:30pm. Closed Aug.
Phone : 00 33 (0)1 42 26 01 02
Metro/Bus : Metro: Clichy, La Fourche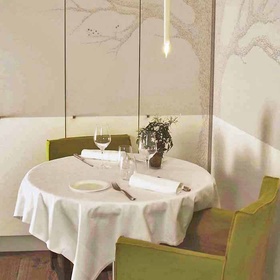 La Bigarrade is a new place to be in Paris even though we don't like very much the era, far from everything.. But it worth take a cab to discover this restaurant hold by Chef Christophe Pelé (former chef of the "Au Jardin" the restaurant of the Royal Monceau and has been working for years with Pierre Gagnaire… ). La Bigarrade – don't ask us the signification of this name – is one of the rare restaurants that does not have a menu but prepare an everyday Surprise Menu.. We enjoy this idea of not knowing what we are going to eat before to arrive on place.
And the real surprise is the quality and imagination of the young team working in a nice open wide kitchen: roasted cod served with tuna hard roe, Saint-Pierre de "petit bateau" (freshly fished) served in a tomato sauce with smoked eggplant, marinated Iberian rare pluma with leeks and seaweed of Kombu are real wonders and a amazing 4 desserts variation..
Only twenty place-settings.. Do not go there without reservation.. Better call about three weeks before your stay in Paris!!
Address : 131, rue Saint-Dominique
Opening hours : Every day from 12am to 3pm and from 8pm to 1am
Phone : 01 44 18 37 55
Metro/Bus : Ecole Militaire,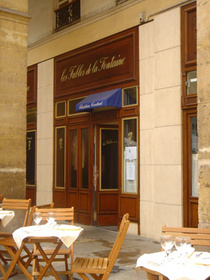 Next to the Eiffel Tower, you should stop by this great fish restaurant in Paris: Les Fables de la Fontaine. The Chef Christian Constant is known for two others places next to this one: the Violon d'Ingres (135 on the same sidewalk) and the Café Constant (139).
Les Fables de la Fontaine is a tiny little room with barely ten small tables to fill the place, by summer time you can ask for a table outside. The room décor is minimalist and keep up with the seafood theme of the food, very pleasant. The usually serve a sort of very funny amuse to start. We had Oyster Tartare (19€), which, in fact, was oyster and salmon tartare, Coquilles St.Jacques Rôties au beurre demi-sel (24€) just perfectly cooked, Dorade with vegetables (24€) great!! This Chef is very innovative, and we like very much its work. If you like fish do not miss this place. Desserts are fun and tasty and the wine not expensive. Better book. Go there!!
Editor's choice : Le Pre Verre - Restaurant
Address : 8, rue Thénard
Phone : 01 43 54 59 47
Metro/Bus : Cluny-La Sorbonne / Maubert Mutualité
Le Pré Verre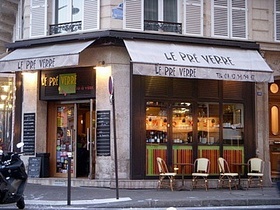 After long stints in Malaysia, Japan, India and China, spices and seasonings have no secrets for Philippe Delacourcelle. He adds, with a remarkable talent, its bases in classical influences and kitchen products from elsewhere.
It proposes a fearless fusion cuisine that makes the most balanced use of condiments, spices and far away preparations. The path of his creation is so subtle that one is never shocked by the exotic influence that appears, as the reinterpreted dish retains a very natural balance.
€13.50 lunch includes a glass of wine + coffee, three courses at dinner are €27.50.
Brothers, Philippe cooks but is constantly in and out the kitchen, throwing around his charm, while Marc is the man behind the interesting wine list. Ask for advice in selecting wine from a list that highlights small producers.
If you want a new twist, but not absurd, come here.
Address : 43, Rue Croix des Petits Champs
Opening hours : Opens daily
Phone : 01 42 61 35 41
Metro/Bus : M3 Bourse ou Sentier / M4 Les Halles
Les Fines Gueules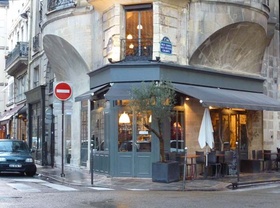 Near the Place des Victoires, in one of the oldest neighborhoods of Paris. The restaurant is on two floors and carefully decorated: stone walls, wooden tables, lamps coming down to the tables... A pleasure for lovers of wine, the glasses are Spiegelau, it changes from what we usually see.
The concept seems obvious: keep it simple with top products doing the shopping at the best craftsmen. Thierry Daniel for the sausage, Poujauran for bread, butter from Bordier, David Hervé for Marennes-Oléron, Hugo Desnoyers for meat...
The menu can be reduced to 4 plates, 4 mains and 4 desserts.
Owner Arnaud Bradol wisely treats their products simply, often serving it raw alongside a salad or sautéed potatoes: the steak tartare with mesclun salad dressed in truffle oil is unparalleled and we really recommend it !!!
In keeping with the theme, wines are organic or natural and many are available by the glass.
Editor's choice : Les Papilles - Restaurant
Address : 30, rue Gay Lussac
Opening hours : Monday to Saturday from 10:30am till midnight
Phone : 01 43 25 20 79
Metro/Bus : Place Monge
Les Papilles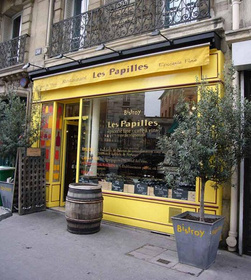 If you want to find a coffee bar and wine bar in Paris, Les Papilles will meet all your expectations.
This first thing you notice about Les Papilles is the wine, and the place does double-duty as a wine bar.
Laëtitia Cosnier and Bertrand Bluy respectively chef and pastry chef, took over this former wine cellar into a small bistro where the wine is always in the spotlight alongside a selection of wines from the South-West and elsewhere.
The wines sold at the store can be opened in the restaurant, with a small charge fee.
For a special event you can rent a room, business, bar and coffee Les Papilles is a nice discovery to make.
You can also take away your favorite dishes. In this bar and coffee, pets are allowed.
Editor's choice : Jadis - Restaurant
Address : 208, rue de la croix Nivert
Opening hours : Mon-Fri from 12:15pm till 2pm and from 7:15pm till 11pm
Phone : 01.45.57.73.20
Metro/Bus : Convention
Jadis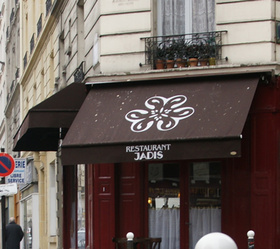 Guillaume Delage, former head of Gaya, opened in late 2008 its chic brasserie near the Porte de Versailles, Rue de la Croix-Nivert.
This young chef, Guillaume Delage, barely thirty years, offers us a touching gourmet flashback. It transcends the simplicity (boiled egg with spinach, veal with Swiss chard piece, floating island with pistachio), revisits the classics (stew of pigeons) or risk the plunge (fricassee of rooster combs and duck hearts) with the same success. The prices also seem from another time.
The best value is the EUR 34 set menu (EUR 25 for two courses), with several choices for each course; tasting menus are EUR 45 and EUR 65. Though simple, the gray-and-burgundy dining room decorated with mirrors and vintage posters has charm.
Guillaume Delage enriches the concept by concocting recipes for dishes that have forgotten an having a big appeal by consumers today.
Your comments : Bistronomy