Le Jules Verne at Eiffel Tower
Le Jules Verne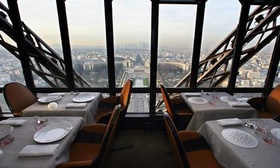 A special elevator lifts you to this unique restaurant, located on the 2nd floor of the Eiffel Tower! Breathtaking views in a room decorated by Patrick Jouin.
The fine food is gourmet style and traditional French cuisine, yet it surely is not easy for any chef to cook such fabulous contemporary French food when being so high up and unable to cook with gas within the Eiffel Tower.
A unique restaurant for its location, supposed to be good ( 1 Michelin star ), but not as good as expected by most reviewers...
There are some set menus, for example the three course lunch menu is around 75€, a five course dinner menu is around 155€ and the seven course dinner menu is around 190€.
Remember that you must have your reservation with you in order to skip the queues for the Eiffel Tower itself and take the private elevator to the Jules Verne restaurant.
Le Jules Verne at Eiffel Tower
Address :
Parc du Champ de Mars
Zip code :
75007
City :
Paris - France
Area :
Eiffel & Trocadéro
Website :
Le Jules Verne - Paris
Opening hours :
12:15 - 1:45 and 7:15 - 9:30
Phone :
01 45 55 61 44
Your comments : Le Jules Verne