Best Bistros and best Brasseries in Paris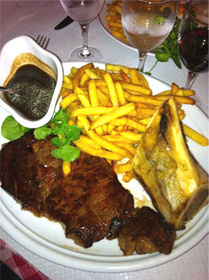 In Paris Bistros and Brasseries are traditional places where to eat every day.
Brasseries (breweries) are usually big places where you can eat all day long, while bistros (bistrots in French) are smaller places, more casual, open only at meals hours.
Parisian often stop working around 1p.m. to have a lunch in this kind of places...Both are offering traditional cuisine, good selection of wine, products of the day or of the market and fast service with tables rotating several times per meal..
Typical and the place you should not miss to have an informal lunch!
Remember that:
In Paris lunch is served from 11:30am to 2pm and dinner from 7:30pm to 11pm.
Brasseries are open all day long.
Restaurants are often closed on Sunday and Monday.
Tipping: all bills include a service charge, but an additional tip of a few euros (for the whole table) is polite unless you're unhappy with the service.
Editor's choice : Thoumieux - Restaurant
Address : 79, rue Saint-Dominique
Opening hours : Daily from 12am to 2:30pm and from 7pm to 10:30 pm
Phone : 01 47 05 79 79
Metro/Bus : Invalides / La Tour Maubourg
Thoumieux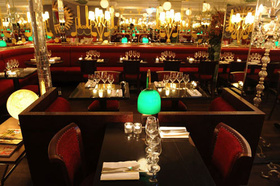 After spending five years at the restaurant of Hôtel Crillon where he won two Michelin stars, Jean-François Piège decided to do all the simple dishes with the twist of sophistication that makes all the difference at Thoumieux.
In just a few months, the new Thoumieux became the hippest of the hippest restaurants, with an extraordinary setting and the most beautiful girls and guys serving you.
The food is surprisingly good, surprisingly cheap and quite inventive too. We can recommend the delicious squid, the duck confit, served with garlicky potatoes and also the churros with chocolate sauce. You get cheese platter from the famous butter-maker Bordier for 8 Euros. 10 Euros for the starter, about 20 for a main dish. Quiet a deal for Paris!!!
Editor's choice : Ribouldingue - Restaurant
Address : 10, rue Saint Julien Le Pauvre
Opening hours : Closed Sunday and Monday. Service from 12am à 2pm and 7pm to 11pm
Phone : 01 46 33 98 80
Metro/Bus : Saint-Michel
Ribouldingue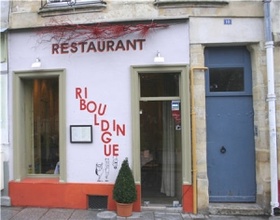 A beautiful cuisine made by Nadège Varigny, really great art!
Dishes unfortunately forgotten by many professionals find here their temple. A temple dedicated to offal cuisine, including those which have become so rare that even their name is strange to read at the very beautiful carte. A nice and affordable wine list.
You can indulge in a brawn salad, lamb's brains "meunière", white kidneys in parsley and garlic sauce, tripes cooked in white wine, for dessert, try the fresh ewe's cheese with bitter honey....all at a very good value that definitely makes it a great place to go for.
Prix-fixe menu at €27.
An attentive and professional service. Spotlessly clean. Comfortable and clear. A clientele of diehard fans, couples, lovers and friends rejoiced whose faces are a pleasure to see..
Editor's choice : Spring - Restaurant
Address : 6, Rue Bailleul
Opening hours : Tuesday to Saturday from 8:30pm to 11pm
Phone : 01 45 96 05 72
Metro/Bus : Louvre - Rivoli
Spring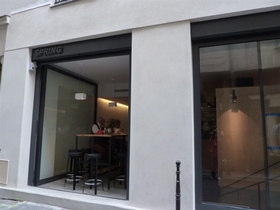 This small modern bistro run by young chef Daniel Rose has fast become one of the most sought-out foodie destinations in Paris.
Once you've booked your table you'll be in the chef's hands: What Rose does is very simple. He puts together a beautifully fresh, harmonious meal from what he has bought at the market that day, and serves it generously but modestly.
There are no theatrics, just good skills and the sort of food you could happily eat every night of the week, yet it still gives you a Parisian experience.
Rose serves a single, prix-fixe menu every night with no substitutions. These might range from spring cauliflower, which goes into a remarkably creamy cream-free soup, to juicy guinea fowl with parsnip, carrot and beet. It's not a restaurant for fussy eaters, but if you're open-minded and have a good appetite it's hard to do better in Paris at an average price of €48.
Editor's choice : Le Rubis - Restaurant
Address : 10 rue Marché St-Honoré
Opening hours : Open from noon to 10:30pm, closed Saturday evening and Sunday
Phone : +33 (0)1 42 61 03 34
Metro/Bus : Tuileries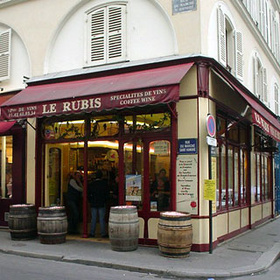 Le Rubis is the best know wine bar in Paris, offering an extensive wine list centred mainly on the Beaujolais and Loire wines. Despite its rustic, slightly battered interior, it attracts serious businessmen and lawyers at lunch, and students and fashion folk at night. For lunch you can have typical bistrot meal like andouillette, bourguignon, jarret and boudin (10 et 12 €). The best time to visit Le Rubis is late in the afternoon when the streets are darkening and the regulars are installed at the bar, leaving the banquettes empty.
Editor's choice : Chez l'Ami Jean - Restaurant
Address : 27 rue Malar
Opening hours : Tues-Sat: noon-2pm and 7pm-midnight
Phone : 01 47 05 86 89
Metro/Bus : Invalides, Tour Maubourg, Alma, Ecole Militaire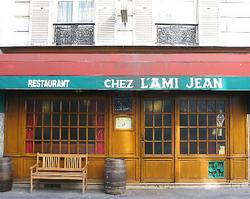 Chez L'Ami Jean was opened by a Basque nationalist in 1931, and fans claim its Basque cuisine and setting are the most authentic on the Left Bank of Paris. Today chef Stéphane Jégo is in charge of the place. It is certainly the best bistrot at this time in Paris.
Stéphane Jégo is waiting for its first étoile from the Guide Michelin. While then you should go there fast..
It's just great for the price with for example a menu at 29 euros.
A la carte you can choose among dishes like one the greatest Bayonne ham we ever had " Jambon de truie Arrossagaray" ; herb-laden Béarn-influenced vegetable soups; Côtes de veau ( slices of veal with fresh herbs, onions, red Espelette peppers) for 2 at 52 €, Confit of duck with small potatoes (23€); Pigeon fermier 30€, Ris de veau de lait de Corréze (32€)...
In springtime, look for a specialty rarely available elsewhere: saumon de l'Adour (Adour salmon) with béarnaise sauce.
Great sweets as well!!
Enjoy well selected wines like Chablis Guy Robert (24 €), Tempranillo (24 €), Cahors Clos Siguier (21 €) and a great Côte Rôtie...
Address : 55 quai de Bourbon
Opening hours : Open noon-midnight Mon, Tue, Fri and Sun // Closed in August
Phone : +33 (0)1.43.54.02.59
Metro/Bus : Pont Marie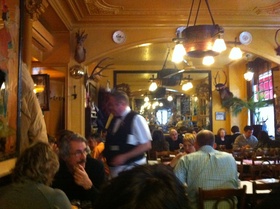 Typical old-fashioned Brasserie – like an authentic Alsatian brewery- with one of the best summer terrace in Paris with great view on the back of Notre-Dame de Paris.
Inside the Brasserie de l'Ile St-Louis looks like old time restaurant with brown smoked walls and old school waiters. Try typical recipes such as Alsatian choucroute garnished with sausages and ham hock, coq au Riesling, jarret de veau grillé and entrecôte Bordelaise(18€) - Entrecôte Bordelaise is a kind of steack with bordeaux wine sauce and.. and an 'os à moelle" which is bone marrow..
Drink Alsatian beer like Mutzig or wine.
They have Berthillon's ice-creams for sweet!
Editor's choice : L'épi d'Or - Restaurant
Address : 25 Rue Jean-Jacques Rousseau
Opening hours : Closed on Saturday and Sunday // Monday - Friday : from 12 am to 2:30pm and from 7:30 pm to 11:30 pm
Phone : 01 42 36 38 12
Metro/Bus : Louvre - Rivoli,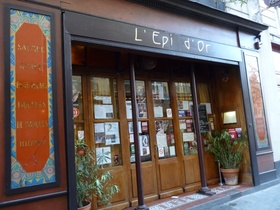 In the great tradition of bistros of Les Halles's District, L'épi d'Or, which is only 5 minutes away from the Louvre Museum, proposes a typical French bistro cuisine with foods like: eggs cocotte à la Dijonnaise, their famous a seven hour leg of lamb, andouillette de Troyes (19€), Rognons de veau en cocotte (26€), fish of the day, few desserts and a great cheeses selection.
Good chart of wine.
This bistro is a "time capsule" with same old decoration and often same clients.. An old time favourite!
Editor's choice : Savy - Restaurant
Address : 23 Rue Bayard
Opening hours : from 11:30am to 2 pm and from 7:30pm to 11pm - Closed Saturday and Sunday.
Phone : 01 47 23 46 98
Metro/Bus : Franklin D Roosevelt,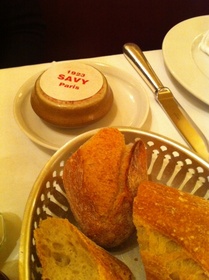 Next to the Champs-Elysées, Savy is the oldest and one of the last typical bistro of the area.
Established in 1923 it is today a kind of time capsule with the same bistro décor and the same typical terroir cuisine. In this case a cuisine from the center of France with finest charcuterie, cheese and top Aubrac meat.
We enjoyed a perfect rib steak with marrow bone (26€).. Great wine selection..
Better book, always crowded.. Quite expensive but so French!!
Editor's choice : Le Taxi Jaune - Restaurant
Address : 13, Rue Chapon
Phone : 01 42 76 00 40
Metro/Bus : Station Arts et Métiers, Rue Réaumur / Station Rambuteau, Rue Beaubourg
Le Taxi Jaune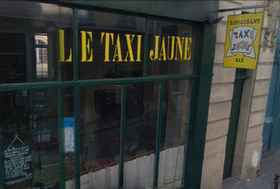 Between Menilmontant and Oberkampf, this place is not really like others. A little gem nestled in a quiet street of a lively area. Market cuisine revisited with spices from around the world, offbeat decor and a warm welcome.
Otis Lebert bistro will appeal to connoisseurs with a beautiful classic traditional kitchen.
The decor of a typical Parisian bistro with its counter, booths, formica tables, wooden chairs is always appreciated.
Menu served at lunch at only 13 Euro for starter and starter, main course or main course and dessert for 18 Euro.
If you are into well made traditional french fare and fine local wine, plus a little bohemian ambience, you will like this place. Definitely not for the pretentious.
Editor's choice : Chez Denise - Restaurant
Address : 5, rue des Prouvaires
Opening hours : Monday thru Friday from 12am to 3pm and from 7:30pm to 5am / Closed for holidays from July 15 till August 15
Phone : 01 42 36 21 82
Metro/Bus : Station Les Halles / Station Louvre-Rivoli
Chez Denise - la tour de Montlhéry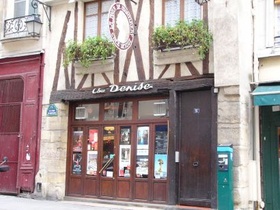 Chez Denise is one of the last bastions of Paris halles and a typical Parisian address.
You can eat any time, day or night, a kitchen "bourgeois" very good consistency. Two leaders share the furnaces, Bernard Noël during the day, and Anfray Michel takes over at night to cut prime rib and veal kidney.
Monthléry Tower is one of the last real pubs in the area, a reflection of what was the Paris of the postwar period. Patron of the restaurant for over 30 years, Denise is everywhere, sees and watches everything.
The kitchen is modern, authentic but beware pounds. The veal kidneys with mustard sauce, thick beef, tripe in Calvados, calf's liver in the English easily spill plates. Reservation required!
Your comments : best bistros in Paris