Thoumieux
Thoumieux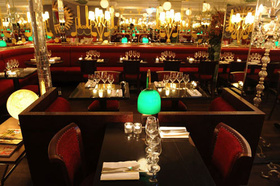 After spending five years at the restaurant of Hôtel Crillon where he won two Michelin stars, Jean-François Piège decided to do all the simple dishes with the twist of sophistication that makes all the difference at Thoumieux.
In just a few months, the new Thoumieux became the hippest of the hippest restaurants, with an extraordinary setting and the most beautiful girls and guys serving you.
The food is surprisingly good, surprisingly cheap and quite inventive too. We can recommend the delicious squid, the duck confit, served with garlicky potatoes and also the churros with chocolate sauce. You get cheese platter from the famous butter-maker Bordier for 8 Euros. 10 Euros for the starter, about 20 for a main dish. Quiet a deal for Paris!!!
Thoumieux
Address :
79, rue Saint-Dominique
Zip code :
75007
City :
Paris - France
Area :
Eiffel & Trocadéro
Email :
CONTACT
SPAMFILTER
@THOUMIEUX.COM
Website :
Thoumieux - Paris
Opening hours :
Daily from 12am to 2:30pm and from 7pm to 10:30 pm
Average à la carte prices :
10 €
Phone :
01 47 05 79 79
Your comments : Thoumieux