Ribouldingue
Ribouldingue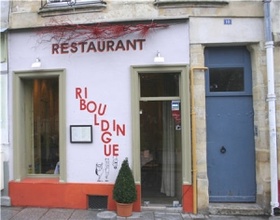 A beautiful cuisine made by Nadège Varigny, really great art!
Dishes unfortunately forgotten by many professionals find here their temple. A temple dedicated to offal cuisine, including those which have become so rare that even their name is strange to read at the very beautiful carte. A nice and affordable wine list.
You can indulge in a brawn salad, lamb's brains "meunière", white kidneys in parsley and garlic sauce, tripes cooked in white wine, for dessert, try the fresh ewe's cheese with bitter honey....all at a very good value that definitely makes it a great place to go for.
Prix-fixe menu at €27.
An attentive and professional service. Spotlessly clean. Comfortable and clear. A clientele of diehard fans, couples, lovers and friends rejoiced whose faces are a pleasure to see..
Ribouldingue
Address :
10, rue Saint Julien Le Pauvre
Zip code :
75005
City :
Paris - France
Area :
Saint-Germain-des-Prés / Quartier Latin
Website :
Ribouldingue - Paris
Opening hours :
Closed Sunday and Monday. Service from 12am à 2pm and 7pm to 11pm
Phone :
01 46 33 98 80
Your comments : Ribouldingue